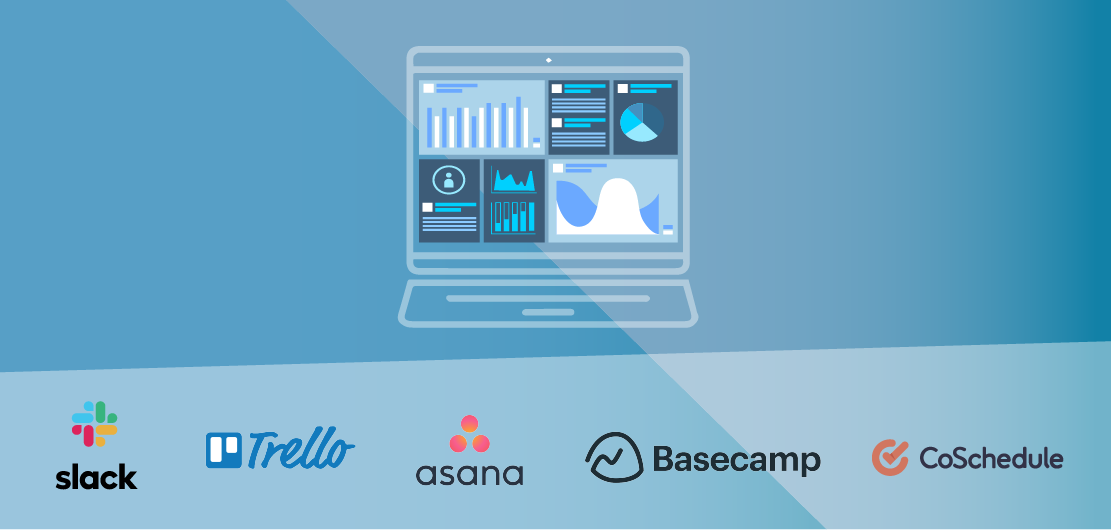 The Best Team Collaboration Software for Marketers
Marketing has a ton of moving parts. On any given day, there's a seemingly endless list of campaigns, projects, and workloads that all need to be managed on a minute-by-minute basis.
One of the best things you can do to set your business up for success is assembling a marketing dream team that can stay on top of things and keep everyone on track.
But, how can you ensure that none of those tasks falls through the cracks? After all, we can only oversee so much at once.
Enter online collaboration tools—the modern marketer's best friend.
With collaboration technology, your deadlines, documents, and processes can all reside under the same roof. They help you prioritize projects, simplify communication, increase productivity, and, most importantly, streamline your workflow.
And if you don't share the same team collaboration tools as your colleagues, NextPlane enables inter-company and intra-company collaborations; there's no need to choose.
With that in mind, we've compiled a list of the top 10 collaboration software for marketing teams. While each one offers its unique capabilities and benefits, it can enable any organization, regardless of size or industry, to work better and faster.
Why Cross-Platform Team Collaboration Matters
Before we dive into the specific tools, it's essential to highlight the importance of cross-team collaboration.
Typically, the most innovative companies are comprised of individuals from multiple departments and sometimes even outside companies, each one with a diverse background and skill set. When these teams come together to work on a project, they generate dynamic and creative ideas.
In many cases, the various team members aren't using the same platforms to complete their tasks, and neither are your clients. It could also be that your entire staff may be using one messaging app while your client is using another.
Rather than starting from scratch and learning different team collaboration platforms, NextPlane can help reduce the risk of collaboration breakdown by enabling these apps to connect.
NextPlane makes the collaboration experience seamless by allowing each team to stay on their preferred platform.
Microsoft Teams
Since its rollout in the spring of 2017, Microsoft Teams has jumped from 50,000 organizations to 200,000 organizations adopting the system.
Part of this exponential growth can be attributed to Microsoft Teams already integrating effortlessly into Microsoft Office 365.
What really sets this chat-based collaboration tool apart from competitors is how easy it is to connect with team members no matter where they are.
Key Features:
Microsoft Teams meetings have dedicated whiteboards that allow participants to sketch together in real-time.
When on an audio call with your fellow colleagues, Microsoft Teams offers plenty of screen-sharing options, including desktop, mobile versions through the whiteboard, or via a third-party app.
Meetings, webinars, and announcements can be broadcasted to larger online audiences with Microsoft live events, an extension of Microsoft Teams meetings.
Pricing:
Microsoft Teams Plan: Free (no commitment)
Office365 Business Essentials Plan: $5.00/user/month (when billed annually)
Office365 Business Premium Plan: $12.50/user/month (when billed annually)
Office365 E3 Plan: $20.00/user/month (when billed annually)
Slack
One of the most powerful workplace communication apps around, Slack is most well-known for its cloud-based architecture.
While it covers all of the instant messaging basics, it also supports file-sharing, in addition to automatic syncing across different devices.
The Slack App Directory also has a staggering 1,500 apps you can integrate right into the app.
Additionally, the NextPlane app for Slack allows Slack users to add non-Slack colleagues to their Slack workspace and channels.
Key Features:
With Slack, users can create channels for teams, projects, and office locations, and easily send messages and share files via the app's drag-and-drop functionality within those channels.
A shared channel works much like a normal Slack channel but connects two organizations.
Slack Connect allows you to connect with up to 20 organizations in a single channel.
All text, PDF, and image files sent through Slack are indexed and retrievable. By utilizing basic search modifiers, shortcuts, and commands, users can access any relevant messages, files, and channels.
With Slack being an enterprise cloud application, the software "supports two-factor authentication natively, and SAML SSO can be enabled for "Plus" accounts for integration with a third-party identity system such as a CASB or an IDaaS."
Pricing:
Free trial
Free version: $0/user/month
Standard Plan: $6.67/user/month
Plus Plan: $12.50/user/month
Enterprise Grid: Custom pricing available
Cisco WebEx Teams
Cisco blends the functionality of both Microsoft Teams and WebEx Meetings.
Users can easily schedule, launch, and join meetings without ever needing to toggle between apps.
You can even share content created in Microsoft apps in the Webex Teams app and start meetings wirelessly.
Key Features:
Seamless video conferencing, whiteboarding, and screen sharing from any device.
Security and Encryption
Integration with more than 2,000 popular productivity, project management, and social applications.
Pricing:
Starter Plan: $13.50 per host/month (annually)
Plus: $17.95 per host/month (annually)
Business: $26.95 per host/month (annually)
Enterprise: Requires quote
Trello
Launched in 2011, Trello has skyrocketed in popularity among businesses of all stripes, amassing more than 25 million users worldwide. Some of their top clients include Adobe, National Geographic, and Fender®.
In their own words, Trello is described as "a collaboration tool that gives you a visual overview of what is being worked on, who is working on it, and how far they've gotten."
The Trello board itself consists of boards, lists, and cards where you can add comments, upload files, and set due dates.
Key Features:
Drag-and-drop functionality makes Trello ideal for non-technical users.
Whether you're using a desktop computer, tablet, or smartphone, Trello can sync all information across multiple devices.
Trello offers 87 integrations called "Power-Ups," including Google Drive, Card Repeater, and GitHub.
Pricing:
Free: $0/user/month
Business Class: $9.99/user/month (when billed annually)
Enterprise: $17.50/user/month (for up to 100 users)
Basecamp
From to-do lists to calendars, Basecamp is a professional-grade workflow management tool that helps marketing team members keep track of work progress and better prioritize tasks.
Users have three options to choose from when organizing their projects —HQ, Teams, and Projects.
Not to mention, Basecamp is intuitive, easy-to-use, and allows for integration with several third-party tools like Zapier and Proposify. The app is also accessible on Mac, PC, Android, and iOS.
Key Features:
Basecamp supports real-time group communication and private messaging through its chat platform.
Using Basecamp's comprehensive project calendar, users can get a clear view of upcoming events, projects, and deadlines.
The search feature allows you to look through the entire system or use a specific project, keyword, person, image, or file.
Pricing:
Free 30-day trial
All-inclusive $99/month (for unlimited users and projects)
Asana
As one of the most well-established collaboration software for marketing teams, Asana boasts a wide variety of workflow solutions, unlike many of the other tools on this list. In fact, Asana is currently used by roughly a million teams across 190 countries.
The app's primary function is to create a space for marketing team members to engage while working on projects and reduce any unnecessary tasks via automation.
In addition to integrating with various other SaaS tools like Slack, Google Drive, and Harvest, Asana is compatible with Android, iOS, and desktop.
Key Features:
Everyone on your team can view a graphical representation of work reports that include a succinct summary of task progress.
The software also features custom fields that indicate a task's priority, amount of time spent, and mode of the channel, to enable marketing teams to keep up-to-speed with what is most important.
Asana offers several ready-to-use templates, as well as custom template options for editorial calendars.
Pricing:
Basic/Free: $0 (for up to 15 users)
Premium: $10.99/user/month (when billed annually)
Business: $24.99/user/month (when billed annually)
Enterprise: Custom pricing available
CoSchedule
Much like Asana, CoSchedule is an all-in-one industry-leading collaboration software for marketing project management.
CoSchedule has become the tool of choice for mid-market and enterprise companies, recently earning a spot on the Inc. 5000 list as one of its top marketing software providers. Their clientele includes big names like Microsoft, Whole Foods, and Yamaha, in over 100 countries.
Powered by a group of agile products, marketers can organize all of their projects in a single centralized location, empowering them to motivate their teams and become more productive.
Key Features:
CoSchedule's Google Chrome extension allows users to easily add and schedule social media messages from anywhere on the web to their calendars.
The headline analyzer tool that's built directly into CoSchedule saves you time by scoring your overall headline quality and its likelihood of being shared and driving traffic to your website.
CoSchedule even has a built-in help desk. You can get all your questions answered right away without having to go back and forth with customer service reps.
Pricing:
Free 14-day trial
Blog Calendar: $14/user/month (when billed annually)
Marketing Calendar: $29/user/month (when billed annually)
Marketing Suite: Custom pricing available
Monday.com
Monday.com is an online collaboration app where teams can use the platform for their marketing, software development, and project management needs.
It's essentially a collection of highly customized spreadsheets. Each user can log the tasks they need to complete and update them as needed with status reports and other relevant information.
Here, every team member can get a bird's eye view of active tasks and their progress, making the process of passing work from one person to the next as efficient as possible.
Key Features:
Monday.com has more than 20 status colors to choose from, setting you up to see who's responsible for what.
Easily add code-free automations to your boards to minimize the chance of user errors.
Monday integrates with the tools you're already familiar with Gmail, Outlook, Slack, and Zoom.
Pricing:
Basic: $8/seat/month
Standard: $10/seat/month
Pro: $16/seat/month
Enterprise: Custom pricing available
Wrike
Trusted by over 20,000 companies, Wrike is a work management platform that provides teams with ultimate visibility into their tasks, deadlines, and marketing processes.
Wrike CEO Andrew Filev notes that "Wrike was borne out of my frustration with having to manage multiple teams in a distributed environment and multiple projects – I had to do it via emails and spreadsheets."
Key Features:
Multiple people can access, open, and make changes to files and documents simultaneously.
Projects and timelines can be viewed on a Gantt chart, giving project managers the opportunity to visualize deadlines.
Customization and automation options help boost efficiency by turning comments and chats into actionable tasks.
Pricing:
Free: $0/month
Professional: $9.80/user/month (5,10,15 users)
Business: $24.80/user/month (5-200 users)
Enterprise: Custom pricing available (5-unlimited users)
With NextPlane, You Can Connect Any Team, Any Platform, Anytime.
One of the most challenging aspects of overseeing marketing projects is learning how to manage the internal-external workflow flow between clients, vendors, and freelancers.
According to a recent Alfresco survey, more than 80% of professional teams rely on technology for their collaboration needs.
But these days, it's rare for everyone to be working on the same platforms. Your internal staff might use Basecamp while your client chooses Trello. Or, you might use Slack to communicate with team members, while your client prefers Microsoft Teams.
Using NextPlane users on different collaboration platforms can connect with their colleagues, inside or outside their enterprise. Users can collaborate in real-time by sending messages with rich text, GIF, and emoji reactions, sharing presence status, participating in channels, sharing files, without leaving their preferred clients.