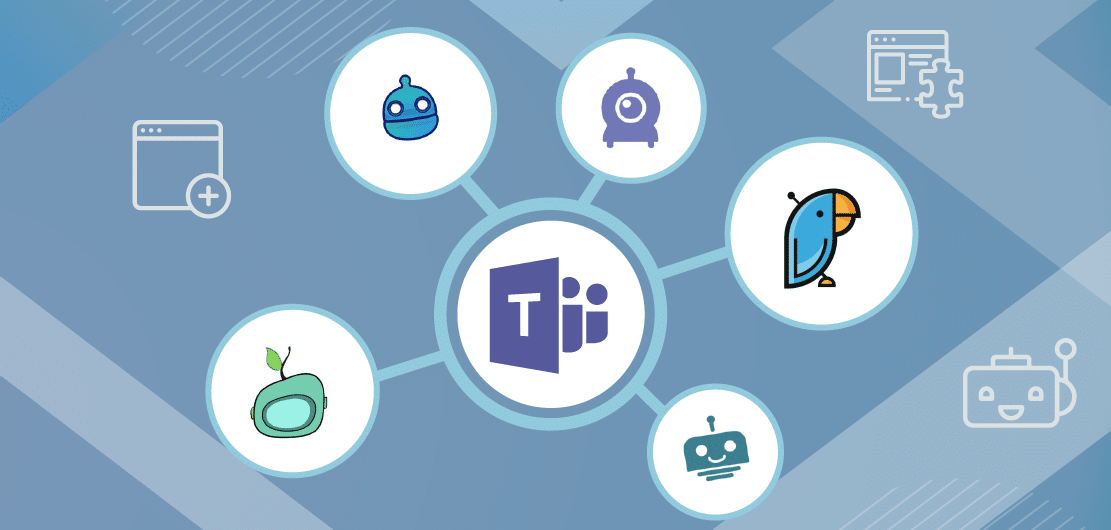 Best Microsoft Teams Plugins and Bots
With more than 40 million messages being sent out every minute, it's no wonder that messaging apps are outpacing social networks in popularity by roughly 20%. After all, we not only use them to communicate, but to make appointments, share updates, organize events, and make purchases.
Reaching a whopping 75 million daily active users earlier in 2020, Microsoft Teams has become one of the most popular messaging tools and collaboration hubs on the market. And thanks to Microsoft Teams security and its powerful bot platform, you can keep your team connected without having to depend purely on chat to ensure all your work is being completed on time.
The Best Microsoft Teams Plugins & Bots
Calendar Bot
Growbot
Polly
YellowAnt
WhoBot
Soapbox
DailyBot
Zenduty
Statsbot
WorkBot
What are Microsoft Teams Bots?
Bots is an innovative functionality in Microsoft Teams that allows users to interact with and retrieve information from a software or website within their active work environment. In other words, you don't have to leave the Microsoft Teams app to leverage the bots. They'll just pass along your information into the app for you so that your work can stay in one place.
Bots can be part of one-on-one conversation, group chat, or channel in a team. They're most often used to embed functionality from other websites, trigger workflows from discussions, and automate certain support tasks.
As the Microsoft Teams store continues to grow, we've assembled a list of our top 10 picks so you can decide which one(s) will best enhance your chat experience.
Calendar Bot

Whether you manage a small in-house team or several employees spread out across the globe, finding a time to meet that works for everyone is never easy. Instead of going back and forth, trying to plan a meeting that all invitees can attend, you can use Calendar Bot to take care of all your scheduling needs.
Just use your Office 365 or Google account to sign up, and your calendar and contacts will be automatically synced. From there, the Calendar Bot will allow you to check the availability of your approved contacts and schedule meetings with them even if they're using a different calendaring platform.
You're also able to embed calendar workflows into any website, blog, or social media. By adding your calendar link to your email signature block, for example, contacts can schedule last-minute meetings in no time.
GrowBot

Sometimes we get so caught up in our day-to-day tasks that we forget to celebrate the accomplishments of our fellow teammates. In fact, one of the main reasons employees chose to leave their job is because they don't feel appreciated.
Luckily, tools like Growbot provide supervisors and managers an easy way to show appreciation and give kudos to their employees in Microsoft Teams in real-time. Simply mention Growbot, use the word "kudos" or "props" in your phrase, and select the user you want to recognize or congratulate.
Not only does Growbot store information about the positive comments you've already sent to your team members, but it lets you track exactly how much feedback each person has received. You can even review your stats on the monthly leaderboard. Currently, Growbot is one of the Microsoft Teams app's most common add-ons.
Polly

It can be tough to gauge how engaged your workforce is, especially when working with remote employees. When used correctly, surveys and polls can be an invaluable tool for decision-making, policy intervention, and product development teams. Plus, the data gathered provides you with insights you wouldn't get any other way.
The Polly add-on is an intuitive, easy-to-use polling tool that allows users to create and analyze surveys within Microsoft Teams easily. The bot will provide you with instant responses to your most urgent questions, keeping you one step ahead of what your audience thinks about a particular idea or event.
To ensure you have full control over your data, users have the option to manage various aspects of the survey, including whether or not votes should be anonymous and how often they should be scheduled.
YellowAnt

These days, automation has become integral to long-term business growth. And when it comes to Microsoft Teams security and its bot framework, YellowAnt is a one-stop-shop for all your automation needs. Using YellowAnt, you can automate work across all of these apps with dynamic workflows and receive real-time updates regarding your projects.
This workplace assistant bot integrates with over 40 apps you likely are already using like Gmail, Salesforce, and YouTube, to deliver event and command-triggered automations with the Microsoft Teams app.
Instead of toggling between several apps, you can reply to comments, start or stop jobs, and add notes directly in Microsoft Teams, which means there's virtually no learning curve for users.
WhoBot

If you work at a larger organization, it can be tough to keep track of who is who. In many cases, the person you're chatting with could be from a different department or brand new to the company. This is where WhoBot could come in handy.
As its name implies, Whobot can search for whoever you want with a simple question. For example, if you want to get in touch with someone who knows about email marketing, you can type—"Who knows about the latest email marketing campaign?"
Whobot will collect data on the person who mentioned "email marketing" and advise you on how to reach out to your colleague.
Soapbox

One of the most frustrating parts of team meetings is having to dig through your emails and documents to prepare for them. With Soapbox, you can create your meeting agenda and have all your notes and talking points stored in one place.
This is especially beneficial for your remote teams since they can collaborate at the same time without ever leaving the Microsoft Teams app.
Soapbox also sends out meeting notifications to keep attendees accountable and in the know.
DailyBot

Daily stand-ups are meant to help teams stay in sync and collaborate more effectively. As the number one integration for agile teams, DailyBot runs daily stand-up meetings and is trusted by thousands of teams, spanning startups to Fortune 500 companies.
Managers and scrum masters can configure periodic reports, OKR check-ins, and monitor the performance of their distributed teams.
First, DailyBot will ask each team member the following questions:
What did you accomplish yesterday?
What tasks are you working on today?
Are there any blockers?
It then will post a report to your preferred channel so everyone can stay informed. Managers can easily take note of who is blocked at work.
Zenduty

Looking to manage your critical alerts and tickets from your Microsoft Teams channels?
Zenduty is an end-to-end incident management platform that does just that. From task delegation and community management to root cause analysis and response automation, the bot manages the complete incident response lifecycle.
Integrating with more than 100 popular ticketing tools like Sentry and Datadog, Zenduty's integration features include custom alert routing rules, custom escalation policies, personal alerts for service-facing incidents, and fully customizable notifications with on-call agendas.
Statsbot

Succeeding in today's competitive marketplace means data is of the utmost importance. Collecting data online can prove to be a hassle. The more apps you have to sift through, the more difficult it is to find the information you need. That's where Statsbot comes in.
Statsbot is a big data intelligence platform that pulls raw data from different areas of your business environment and delivers it to you in the form of valuable insights accessible from within Microsoft Teams.
The information collected is presented in the form of charts, reports, and dashboards that more than 40,000 users rely on to make data-driven business decisions.
WorkBot

Boosting productivity is a primary goal for many businesses, as the more productive a workforce is, the more revenue they'll bring in. With Workbot, you can harness all the power of your apps, databases, and microservices, and channel it into Microsoft Teams so your team can operate more efficiently.
You can rely on Workbot to perform critical functions like approving workflows, delivering requests for IT assistance, and managing order fulfillment. In fact, you can completely customize your workflows, notifications, and commands across more than 300 apps, which are powered by the Workato platform.
Over 4,000 of the world's top brands count on Workato to connect their apps and automate workflows without compromising their Microsoft Teams security and governance.
With NextPlane, You can Connect. Any Team. Any Platform
There you have it—the top Microsoft Teams bots around. But, how secure is Microsoft Teams and its bot library? In short, it all depends on the add-on. While this isn't a comprehensive list of every bot worth looking into, we're positive that they'll maximize your team's productivity in no time.
NextPlane bridges the interoperability gap between Microsoft Teams and other platforms, allowing team members using different collaboration tools to communicate seamlessly. You and your colleagues can send messages with rich text, participate in channels, and share files, without ever having to leave your Microsoft Teams client application.
Additionally, NextPlane connects over 750,000 enterprise users every day from thousands of Global 5000 companies. That means you can rest assured that interoperability will never be an issue.