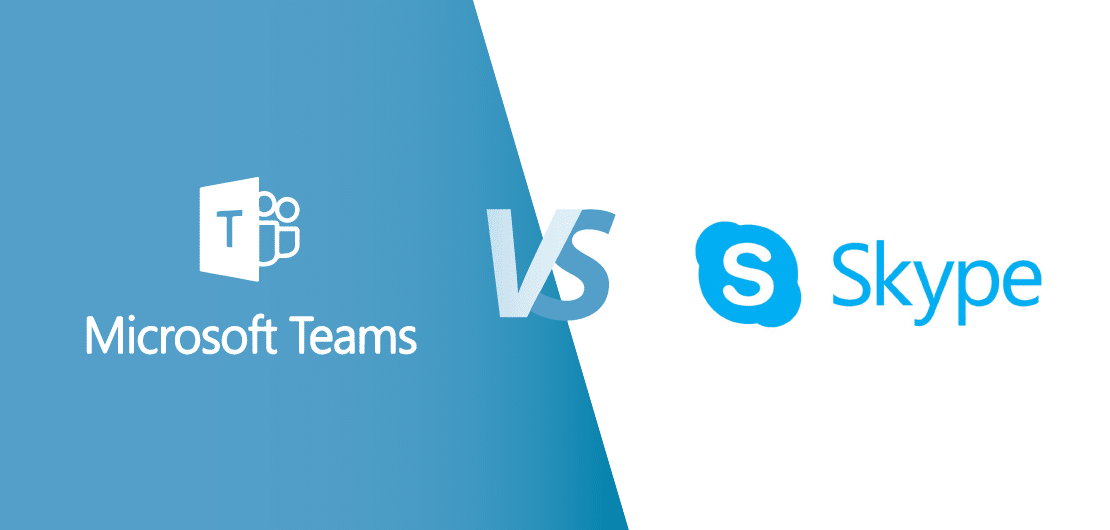 Microsoft Teams vs. Skype: Why MS Teams Pulls Ahead
Effective collaboration is the cornerstone of a high-performing team. And thanks to a growing number of online productivity tools, communicating and collaborating has never been easier. Two of the top contenders in this market are Microsoft Teams and Skype for Business. Launched in April 2015, Skype for Business has gained traction around the world for its premiere voice calling and video conferencing solutions. Two years later, Microsoft published its version of modern collaboration software currently used by more than 500,000 organizations globally.
In this article, we'll be comparing both platforms and examining the different needs they fulfill. Let's dive into some of the functionality and features of Microsoft Teams vs. Skype for Business.
Teams and Skype for Business Features and Capabilities
While Microsoft Teams and Skype for Business have considerable overlap in functionality, there are a few key distinctions to point out.
Microsoft Teams
Audio and Video Calls: Microsoft Teams tends to be more tolerant of networks that struggle to provide sufficient bandwidth. As long as there are 1.2Mbps available, you can enjoy a smooth, high-quality audio/video experience without having to worry about frequent freezing and stuttering.
Chat and Messaging: One of the other notable differences between Microsoft Teams and Skype for Business involves chat capabilities. Users can sign in to Microsoft Teams and access every private or group chat and view its full history. All conversations, regardless of when you left or were added to the chat, are available unless they are individually deleted.
Integrations: Microsoft Teams can integrate more than 150 third-party applications for improved productivity. This means users can gain quick access to the most relevantfiles, users, and applications they need to complete their tasks. This feature streamlines workflows and saves your employees plenty of time.With the "Apps," users can access certain services without having to toggle between applications. In other words,Microsoft Teams allows users to share Wikipedia articles, weather updates, stock information, and other points of interest without ever leaving the chat window.
File Transfer: Using Microsoft Teams, file transfers can be conducted through SharePoint, and unlike Skype for Business, they are available for offline users. As an added perk, you can send GIFS, stickers, and memes to users, directly from the Microsoft Teams store.
Guest Access: When an individual is granted "guest access" in Microsoft Teams, theyare able to create a channel, participate in a private chat, participate in a private channel, share a channel file, and post, edit, and delete messages.
Skype for Business
Audio and Video Calls: In many ways, Skype for Business meetings are comparable to Microsoft Teams meetings. You can easily schedule a meeting through Outlook, or host an ad-hoc meeting with your team and with external participants who do not have a Microsoft Teams account. Skype for Business also offers video conferencing calls that can support up to 250 people.
Chat and Messaging: With Skype for Business, you have the ability to add multiple contacts in a single group chat. However, chats disappear once you close out the window. The conversation can still be saved, but it requires Microsoft Outlook to be your default mail client.
Integrations: Originally, Skype for Business's native integration was limited to primarily calling from telephony apps and systems. Zapier, a popular third-party app, is what ultimately provided the IFTTT functionality.
File Transfer: With Skype for Business, file transfer is offered directly from the client's computer with file transfer options in the client application via copy/paste or drag and drop functionality. Users can configure the file size limits, aswell as the file types. However, file transfer is not available for offline users.
Guest Access: Guests can also join a meeting even if they don't have a Skype for Business account. They can be invited either via email or calendar, but have to install a web plugin or the Skype for Business app to attend.
Security and Compliance
Collaboration between teams within an enterprise is critical for business productivity. However, with so much sensitive data being shared through these platforms, concerns of security, privacy, and compliance regulations are on the rise. Both Microsoft Teams and Skype for Business have a host of features that ensure users can collaborate without having to compromise their privacy or security.
Microsoft Teams
Microsoft Teams is a cloud-based service, meaning it is supported by the same multi-billion-dollar funding that Microsoft invests in cloud security. That way, companies can trust that their protection won't be compromised by migration.
Microsoft Teams is also Tier C-compliant and includes the following standards: ISO 27001, ISO 27018, SSAE16 SOC 1 and SOC 2, HIPAA, and EU Model Clauses (EUMC). They offer support for more than 90 regulations and standards worldwide.
According to Microsoft, their approach to privacy is grounded on transparency.
"As a customer of Office 365, you own and control your data. Microsoft does not use your data for anything other than providing you with the service that you have subscribed to. As a service provider, we do not scan your email, documents, or teams for advertising or for purposes that are not service-related. Microsoft doesn't have access to the uploaded content. Like OneDrive for Business and SharePoint Online, customer data stays within the tenant."
eDiscovery
Compliance
Content search
Review
Export
Hold
Skype for Business
As part of the Office 365 services, Skype for Business is created in compliance with the Microsoft Trustworthy Computing Security Development Lifecycle (SDL) and follows all of the same security best practices and procedures.
Micro IM Security is a real-time security solution that offers threat and data protection for Microsoft Skype for Business servers. It also helps users avoid conflicts of interest with communication controls in order to enforce blocks or ethical walls. To minimize administration time, this security feature is managed centrally using both single sign-on and role-based access.
Protection Tools:
Topology builder
Topology planning tool
Central management store
Server-to-server authentication
Role-based access control
Pricing Structure
Whether you choose Microsoft Teams or Skype for Business, you may incur some costs depending on the plan you select. Both applications have a monthly or annual fee, with each tier having a higher price tag as more functionality and features are added.
Microsoft Teams
Teams is available to all Office 365 account holders, and as of July 2018, Microsoft now offers a version of Teams for free.
The free plan hosts up to 300 users and 10 GB of cloud storage. Members of your team can be sorted into separate channels that include audio and video calling.
For even more storage, improved security, and integrations with other Microsoft Office applications, go with the Office365 Business Essentials Plan.
If you want access to desktop versions of Outlook and Word and higher data caps, you'll be charged $12.50 per user per month.
With the office 365 E3 Plan, you can install Office mobile apps on up to five Macs or PCs, five tablets, and five mobile phones per user.
If you decide on a monthly subscription instead of renewing annually, prices will go up a bit.
Pricing Plans:
Microsoft Teams Plan: Free (no-commitment)
Office365 Business Essentials Plan: $5.00/user/month (annually)
Office365 Business Premium Plan: $12.50/user/month (annually)
Office365 E3 Plan: $20.00/user/month (annually)
Skype for Business
Skype for Business pricing is built-in with Microsoft Office 365's suite of products.
The significant differences between the plans include email hosting and access to premium-grade features like online meetings and video conferencing.
The Business Essentials plan offers email hosting with a 50 GB mailbox, as well as a custom email domain address.
Best-suited for businesses that need cloud storage and sharing, the Business Plan includes desktop versions of Office applications, in addition to fully-installed apps on five Macs or PCs, five tablets, and five mobile phones.
Business Premium is the most feature-rich of the bunch, delivering group high-definition video conferencing, desktop and app sharing, and meeting recording.
All Skype for Business plans are able to support a maximum of 300 users. Plus, a free 14-day trial is included for all subscription plans.
Pricing Plans:
Business Essentials: $2.50/user/month (annually)
Business: $8.25/user/month (annually)
Business Premium: $10/user/month (annually)
Compare features, security, and pricing for Teams vs. Skype

Microsoft Teams vs. Skype for Business in the Future
When it comes to Microsoft Teams vs. Skype for Business, organizations no longer have to worry about choosing between the two. Instead, Microsoft Teams announced in 2017 that it would ultimately replace Skype for Business, encompassing all its functions and operating as a single collaborative platform.
Skype for Business Online is set to suspend its cloud service by July 31st, 2021. However, customers running the on-premises servers will receive continued support on the latest version until 2023.
While it may seem like a complex transition, the reality is that the Microsoft Teams Skype integration will make it much easier for businesses to focus on the collaborative software solutions that matter most.
Final Thoughts
A seamless and secure communication process is a must-have for organizations of all sizes and industries. One of the best ways to ensure that your business can collaborate optimally is by using a platform that utilizes the best tools and solutions, enabling your team members to work frequently and easily, whenever and wherever they are.
With NextPlane, You can Connect. Any Team. Any Platform.
Our recent survey shows 79% of companies are operating in a mixed collaboration environment, which can include legacy UC platforms such as Microsoft Skype for Business and Cisco Jabber.
NextPlane enables mixed collaboration environments to deliver the same seamless functionality as email; users can send messages, share presence status, participate in channels, or share files, without leaving their preferred clients.
By using NextPlane, companies with mixed environments, such as IBM, Merck, Nokia, and others, have reduced their total cost of ownership and administrative burden by 50%.
The video below shows how easy is communication between Teams and Skype with the help of Nextplane platform.