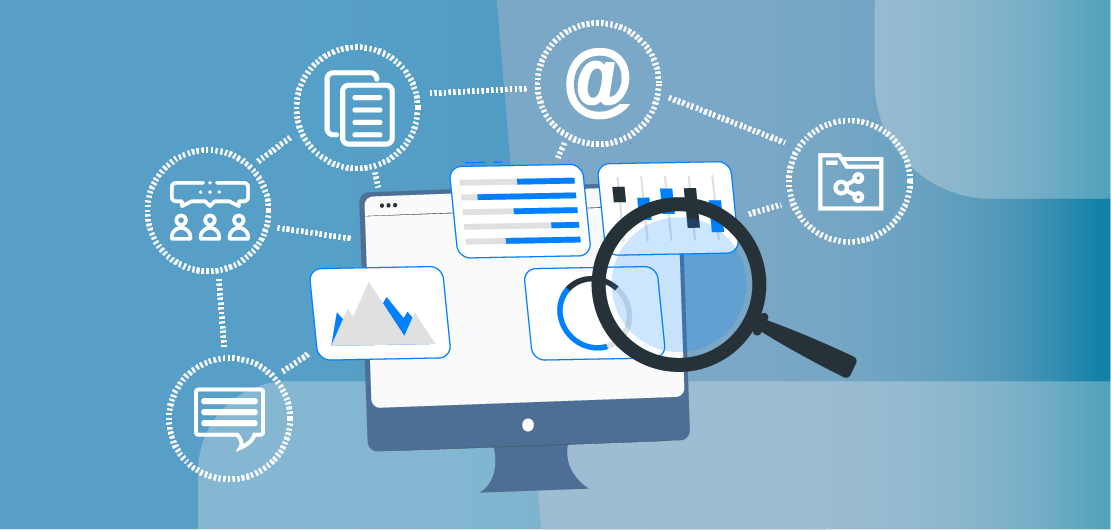 Introducing Collaboration Scores: new insight to maximize employee productivity
Knowledge workers are increasingly using team collaboration applications to drive productivity and success for their organizations. In forcing many employees to work remotely, the pandemic has accelerated a trend already well underway for several years. It's not uncommon today to find multiple online platforms in use across an organization, as employees look to communicate and work with colleagues, partners, and customers.
But with the many advances these team collaboration apps bring comes challenges for IT and business leaders. How can they understand where value is being created and how people are using these tools? Without this insight, there's no actionable data to improve user experiences further and further enhance productivity.
This where NextPlane's new Collaboration Scores service comes in. Leveraging our unique ability to provide a seamless user experience across all major team collaboration apps, it will provide accurate visibility and user data where employers need it most.
A new era of collaboration
Team collaboration apps, like Slack, are fast becoming the new email. According to a recent survey, more than 60% of organizations have already adopted these apps, and the figure is set to increase to 67% by 2021. Microsoft alone claimed that its Microsoft Teams platform reached 115 million daily active users in October. But the market is still fragmented with the likes of Slack, Cisco WebEx Teams, Zoom, Avaya, and more.
This has led to an increasingly complex collaboration environment, where users inside organizations stick to their preferred platforms and use guest accounts to collaborate with users outside the company. In fact, NextPlane research reveals that nearly 42% of organizations run more than one team collaboration app internally and a half (49%) conduct business with users outside of the company on such platforms.
Why users love team collaboration apps
One of the reasons team collaboration tools, such as Microsoft Teams, are replacing email as the new digital work hub is that employees love their expansive, feature-rich capabilities. They meet the needs of dispersed, time-poor workers looking to do everything from project management and customer service to content collaboration and IT incident management.
Typical functionality includes:
File sharing
Group conversations
Powerful search
Online whiteboards
Document synchronization
Video conferencing
Cloud storage
Instant messaging
Application integration for even more features
Collaboration blind spots
However, this is where the problem begins for many IT and business leaders. They lack visibility into the use of these apps because of:
Guest accounts: Nemertes Research estimates that over 44% of organizations use these accounts to allow external access to their team collaboration instances or allow their users access to partner organizations' platforms. But this can severely restrict visibility into what their users are doing as guests and the business impact.
Remote work: Nearly half of US employees were working from home in 2020. This trend is likely to outlast the pandemic. But this can also create challenges in monitoring the use of team collaboration platforms and adoption over time.
Why collaboration scores matters
Why are employers so keen to get access to this kind of data? Because collaboration can be a significant driver of productivity, staff wellbeing, and business success.
Introducing the NextPlane Collaboration Scores
Our answer to the visibility challenge is a new tool: Collaboration Scores. Thanks to NextPlane's ability to allow seamless communication across multiple platforms, it's designed to provide organizations with mixed collaboration environments visibility into:
Direct messaging
Channel-based conversation
Presence status
Conversation hubs and spokes
How we calculate the NextPlane Collaboration Scores
Collaboration Scores reflect your users' level of collaboration on team collaboration apps like Slack, both inside and outside the company. We offer the following:
The average number of messages exchanged per month (dividing the total number of messages by the number of active users)
The average number of collaborators (users in your collaboration teams)
A distribution curve of active users by number of messages exchanged
NextPlane Collaboration Scores are further broken down by internal versus external collaboration. Peer benchmarks also allow companies to compare their organizations' scores with others in their industry groups, such as pharmaceuticals or manufacturing.
Shining a light on collaboration
As productivity and technology are intertwined, companies want to know how their team collaboration platforms allow people to be productive and do their best work.
Thanks to NextPlane Collaboration Scores, organizations finally have visibility into:
How their users work together
How their users work with external partners
How their collaboration efforts stack up against competitors in the same vertical
With this insight, business leaders can better measure the value they can extract from investments in team collaboration tools and where IT can improve user experiences. That's the quickest path to more cost-effective team collaboration apps, increased business agility, and enhanced productivity.
NextPlane—Collaboration Without Boundaries—Connect. Any Team. Anywhere.
As a result of the insight they're able to generate from Collaboration Scores, IT leaders may find they need a way to reduce the number of guest accounts they're using and break down siloed use of team collaboration, impacting productivity.
Users are best served if they can stay in their preferred collaboration platforms and do not have to interact with multiple team collaboration apps; since each platform presents a different set of challenges and a distinct UX.
By delivering collaboration without boundaries, NextPlane allows users on Microsoft Teams, Slack, and Cisco Webex teams to connect with their colleagues, inside or outside their enterprise, without leaving their preferred platforms. Users can send messages with rich text and emoji reactions, share presence status, view profiles, participate in channels, and share files regardless of the team collaboration platform.
For more information, please visit NextPlane, or book a free 30-minute call with a NextPlane specialist.