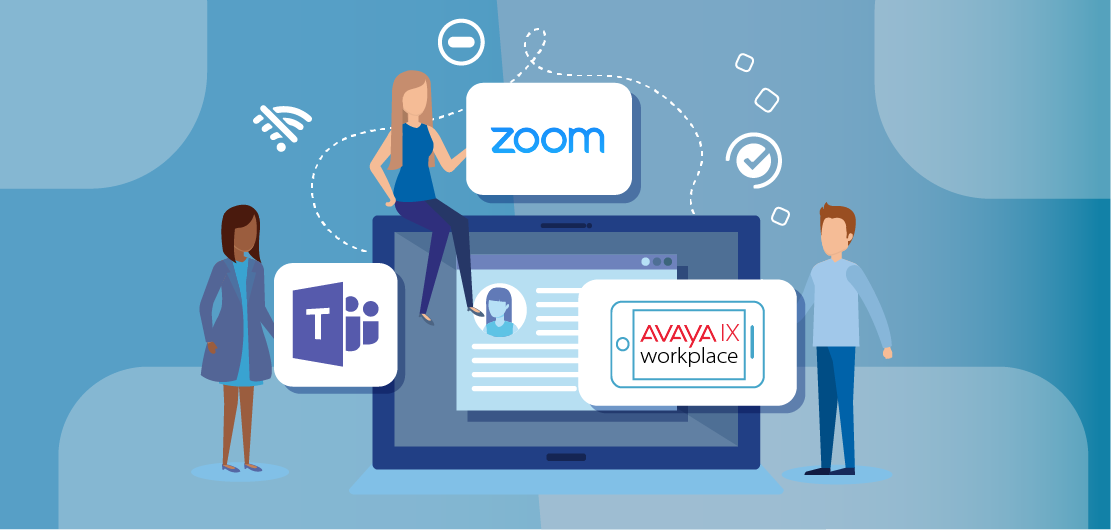 Unified Presence – the Real Challenge for Cross-Platform Collaboration in 2021
Collaboration realities of the remote workforce
The need to improve productivity has only become more critical as the pace of business increases and workplaces become more decentralized. Many forms of work are now team-based, and it's become more the exception than the rule where all members are physically present in the same space.
Businesses have lots of good reasons to operate in a distributed fashion, and increasingly, employees prefer to work remotely, especially to maintain a better work/life balance. In October 2020, a survey by the World Economic Forum found more than 80% of global firms plan to accelerate the digitization of business processes and grow remote work, while half plan to accelerate automation (pg. 14, Fig. 5).
With both employers and workers trending in the same direction on this front, it's unrealistic to expect that all team members will meet in-person regularly.
Furthermore, businesses need to be agile to remain competitive, and that means that processes, workflows, and decisions must happen faster. Doing all this with a distributed workforce is not easy and requires communications tools that work seamlessly across various platforms, endpoints, and networks. A variety of communications and collaboration platforms have come to market to address this, and as cloud technologies mature, their capabilities keep improving.
While the combination of supporting a distributed workforce and the need for greater agility pose considerable challenges for productivity, the impact of COVID-19 has also played a key role in defining the realities of collaboration going in 2021. The most significant change has been work from home, amplifying the already strong growth in remote working, but now operating at levels unthinkable pre-pandemic levels. To illustrate, a recent study from OWL Labs shows almost 70% of full-time US workers have become home-based. Technology-wise, the pandemic has also accelerated cloud adoption for many businesses, with the need to support these new workplace realities being a key driver. According to a global study by MariaDB, COVID-19 has led to 40% of businesses accelerating their cloud plans.
UCC landscape – a best of breed mix of platforms
This is the environment in which UCC providers – unified communications and collaboration – must operate, and the result has been a messy mix of both players and solutions. In addition to established players like Microsoft, Cisco, and Avaya, we have new disruptors like Slack and Zoom that bring a different collaboration approach. Add to that entries like Amazon and Google; outsiders to the UCC space, but by virtue of their cloud footprint are having an impact. Cloud opens the door to all kinds of new UCC players, and while choice drives competition and innovation, IT buying decisions have become more complex.
UCC has always been a challenging space to define – and hence a best of breed mix of players – but most platforms fall into one of three groupings. The first would be team collaboration platforms, and these have a vital messaging component with a rich set of features that support collaboration. Key players here would include Microsoft Teams, Cisco Webex, and Slack (it's too early to tell how Slack shakes out with Salesforce, but for now, they're still in this mix).
A second type would be platforms built primarily around conferencing and are generally video-centric. Zoom is the leading example here, but others would include Fuze, RingCentral Video, LogMeIn, and Google Meet. Third would be offerings with lots of UCC capabilities, but these platforms are primarily telephony-centric. Initially developed to support desk phones, calling on these platforms is done more now on softphones, and the installed base remains large. To varying degrees, these would be from vendors with a PBX pedigree, such as Avaya, Cisco, and Mitel.
Collaboration needs to drive UCC platform choices
While these categories are somewhat arbitrary, the key idea is that UCC platforms tend to be built around one of three modes – messaging, video, and voice. Businesses will often choose a platform based on which mode best drives collaboration for their organization. All three types are well-established in the market, and despite the rapid pace of innovation, we're not at the point yet where one platform does it all, in which case businesses can move away from point solutions that become redundant.
For example, Microsoft Teams has never been voice-native, Slack eschews both email and telephony, and Zoom has only recently added modes to grow beyond video conferencing. Despite these various shortcomings, each platform remains widely-adopted and has a very loyal user base in many cases. Each has distinct advantages, and with collaboration representing a wide range of use cases, it's understandable why multiple platforms are the norm. Recent research from Nemertes shows that 42% of organizations run more than one collaboration application internally. As such, Microsoft Teams will never displace Avaya, and Slack will never replace Zoom, etc. Not only do the leading players have large installed bases, but for the most part, they have enjoyed extraordinary growth during the pandemic. UCC is the right technology for the times, and as businesses rush to the cloud, their deployments rise in lockstep.
These realities will remain in place for some time to come, as most businesses recognize that work from home is here to stay, and the post-pandemic world is not going to revert to pre-pandemic times. Enterprises are planning now for some form of the return of office, but the future will be more of a hybrid workplace, where employees work from both settings – and to do that, cloud-based collaboration tools will be needed. A recent global study of knowledge workers by Slack shows a strong preference for hybrid working at 72%, whereas only 13% prefer to work solely from home, and only 12% only from the office. Given the current of affairs, this means that IT will need to continue to support multiple UCC platforms.
Why presence is so important
The above scenario would not be problematic if there was full interoperability among all platforms. Or if one platform could fully address each worker's UCC needs. Consider the amorphous nature of collaboration itself – some tasks are simple, and others are complex. Some just need 1:1 communication, while others will be channels-based. Some teams meet sporadically, and some meet constantly. Aside from all these variances, today's workplace is multi-generational, where digital natives have different communication styles and preferences from their older digital immigrant co-workers.
These are just some of the permutations that will keep multiple UCC platforms in use for years to come, especially since old habits aren't easily broken, and technology change often happens slowly in large organizations. To be fair, companies have pivoted in 2020 faster than anyone thought possible, but people like to stay in their comfort zones when it comes to everyday communications.
This brings us to the presence status and the role it can play to keep workers productive in this chaotic environment. Presence was a vital part of unified communication platforms and has been a core UCC feature for a good reason. Without presence, the benefit of shifting from using standalone communications applications to having them in an integrated environment would be moot. The whole point of presence is to remove friction from the communications process, so workers don't waste time with voicemail and email just to find out when someone is available.
The diminished utility of presence in cross-platform collaboration environments
When everyone is doing all their communicating – and collaborating – within a single platform, presence has significant utility. However, the productivity benefit promise starts to break down when multiple UCC platforms are used. Every UCC vendor intends to keep users on their platform for as many applications as possible, and where necessary, provide integrations with strategic partners. The Internet spirit of being open to all applies here to a point, but these players are competing intensely in a big market, and we may never get universal interoperability for UCC.
That said, it's not necessary for all platforms to have interoperability with every application. However, presence aggregation is a critical feature as it provides a crucial bridge across all platforms so workers can use these tools more effectively. Given how most businesses are using multiple UCC platforms, one would think that presence extends across all of them as a matter of course, but that's not the case. The reality is that each platform has native presence statuses (available, busy, DND), but there's no aggregation with other UCC platforms.
To illustrate, presence for a Microsoft Teams user only indicates that worker's state within Teams. I could be messaging team members in Teams, and my presence status would signal my activity to others on Teams. They would see that I'm engaged but also available for contact. That's neat and tidy, but I could also be concurrently on a Zoom video conference or talking on my Mitel softphone to a customer. My presence signals to them my availability, but clearly, I'm busy and not available. This takes us back to square one with islands of communications that make collaboration harder, not easier.
Unified presence – the key to unifying collaboration
Based on the UCC realities outlined in this post, the value of presence is undermined when it does not reflect the users' actual status on these islands. It's not enough to have great communications applications on one or more platforms. These are just the tools to do a job, but communicating effectively and genuinely unifying communications – presence aggregation is essential to bridge these islands.
Think about what that would mean if these platforms showed the unified presence status of their users. Collaboration would no longer be so fragmented, and it wouldn't matter how many platforms are used. Perhaps it's wishful thinking that someday we'll all use a single UCC platform – despite what the vendors want to see happen – but we wouldn't have to worry about that if presence aggregation could orchestrate the state of play across multiple platforms. Isn't that an easier problem to solve?
If we had that, personal productivity would surely be better since we could work seamlessly across platforms without compromising our presence status with others. Regardless of what modes I'm using or which platforms I'm on, my team members would always know my availability through my aggregated presence status. They wouldn't be guessing anymore, and they wouldn't be disappointed if I don't reply right away to their message.
Now think about what this means to LOB managers, supervisors, and team leaders. Presence indicates the user's current availability and status to other users. In distributed workplaces, the unified presence adds another layer of value. The larger the team, the more dispersed they'll be, so the efficiencies of knowing everyone's status will be further multiplied. When projects are on short timelines, or teams need to respond quickly to a new competitor or change in market conditions – like the pandemic – you can't afford to waste time. Every second counts, and for larger teams, those lost moments add up quickly.
Making a case for the unified presence
In my view, then, the need for unified presence (aka presence aggregation) has never been greater – but not in the form you're probably most familiar. To some extent, presence has been normalized across some of these platforms, but it needs to go further for businesses to get full value from UCC. The problem set does not seem to be widely understood, and when that happens, the solutions aren't always easy to find.
As I often find in my research, there are always under-the-radar companies focused on a specific problem set, and in this case, Nextplane is one of them. Collaboration vendors have no incentive to develop unified presence, so you have to look elsewhere, but that will only happen once the problem set is clear. Hopefully, my post achieves that for you, and if this puts you on a journey to find a solution, then I'd say you're in the right place now.
NextPlane – Collaboration Without Boundaries – Connect. Any Team. Anywhere.
Finding your colleagues' and clients' availability can be challenging when they are on multiple collaboration platforms, including conferencing apps and softphones. As a result, you continuously need to switch between the apps or guest accounts to share ideas, make decisions, and move work forward with a common purpose and place.
Unified Presence Between Teams and other collaboration tools – NextPlane automatically aggregates Microsoft Teams users' presence status ((i.e., available, busy, or in a call) when on Slack, Webex Teams, Zoom, Webex Meeting, Avaya, Cisco, or Google Meet. This ensures that a user has a single presence state regardless of the app and the device they use.
Using NextPlane, users on Teams and Slack can save time by determining their colleagues' reachability when on Zoom, Avaya, or Cisco video or voice calls without leaving their preferred apps.
The NextPlane acts as a universal interoperability hub between Microsoft Teams and other collaboration tools, enabling users to share their presence with those on a different platform. And if there is no one-to-one or exact correspondence between presence on two platforms. In that case, our equivalence-based mapping approach delivers a highly reliable experience, staying in sync with user expectations in today's rapidly evolving work environment.
NextPlane transforms the way you work alongside your co-workers, partners, vendors, or customers by moving conversations out of siloed collaboration tools and into your preferred apps.
Using NextPlane, companies with mixed environments, such as IBM, Novo Nordisk, Ericsson, Emerson, and others, have increased their internal or external collaboration by 50%.
For more information, please visit NextPlane, or book a free 30-minute call with a NextPlane professional.