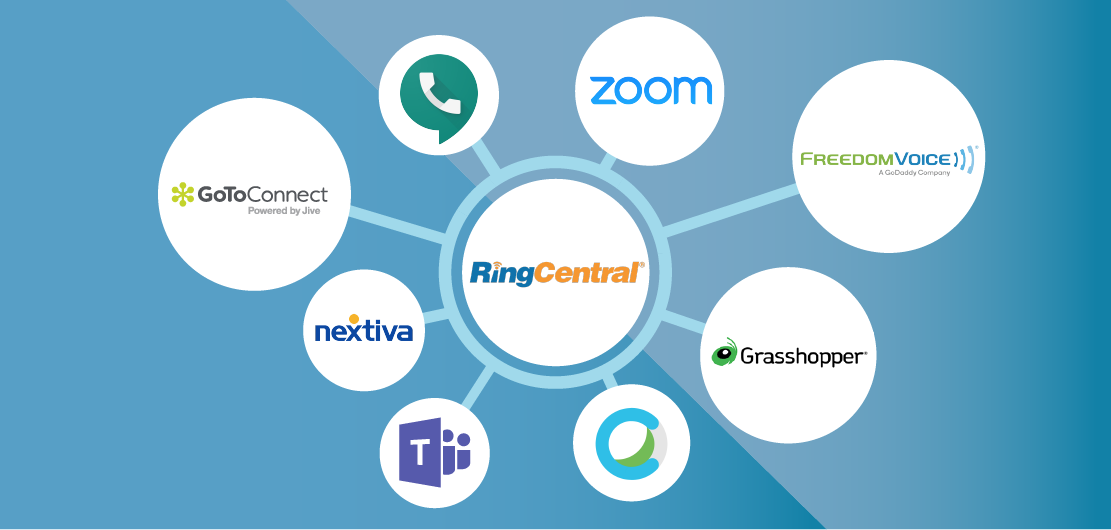 The Best Alternatives to RingCentral
How we communicate with one another in the workplace determines how healthy and productive an organization is. That's what makes internal communication so important. Not only does it enhance transparency by making channels accessible to all employees, but it can help retain top talent by providing consistent feedback and engagement opportunities.
More than 300,000 customers worldwide use RingCentral to power their internal communications. Founded by CEO Vlad Shmunis in 1999, RingCentral is a cloud-based phone system that delivers everything from online messaging and video meetings to internet faxing and contact centers for companies of all sizes. RingCentral's full-featured system allows you to use your smartphone, tablet, or computer to make and receive calls easily, whether you're in a traditional office or are working remotely.
Despite RingCentral's popularity, there are plenty of other service providers with comparable solutions to consider. Plus, many of the most widely used apps integrate seamlessly with RingCentral, allowing you to maximize your software tools and functionality without straining your budget.
Let's take a closer look at the top RingCentral alternatives so you can select the one that can best accommodate your business.
Table of Content:
Google Voice

This voicemail service from Google has a wide range of calling capabilities, tools, and features. It essentially provides users with a phone number after signing up for a free account or downloading the app. With this new number, you can make calls, send text messages, and customize your voicemail. Plus, Google Voice integrates with several other apps in G Suite, including Gmail, Google Chat, and Google Hangouts.
Google Voice Key Features:
Personalized phone number protects your privacy since you don't have to risk exposing your personal contacts.
Voicemail to email transcription enables users to manage all communications from one place.
Manage high call volumes more effectively, especially with team members who are working in different locations.
Pricing:
Free phone and video tools
Free conferencing options
No additional subscription needed for leveraging Google cloud suite and related integration features
Zoom

With work from home policies on the rise, Zoom offers a video-first unified communications solution that has garnered the support of nearly 13 million users. Headquartered in San Jose, California, Zoom is the collaboration solution of choice for tech startups, federal governments, and everyday people looking to keep in touch with friends and family members. Users can set up virtual video and audio conferencing, content sharing, and chat across devices.
Zoom Key Features:
Whether you're hosting a one-on-one meeting or have multiple participants, simultaneous screen sharing allows you to share your screen with your fellow team members.
Zoom is compatible with Mac, Windows, Linux, Android, and iOS, which means you don't need a Zoom account to attend a meeting.
The Zoom platform offers a host of integrations and add-ons, including a new partnership with RingCentral.
Pricing:
Basic Plan: Free (no-commitment)
Pro Plan: $14.99/month/host (billed monthly)
Business Plan: $19.99/month/host (billed monthly)
Enterprise Plan: $19.99/month/host (billed monthly)
GoToConnect

Ideal for smaller companies, GoToConnect (formerly Jive) is a leading business phone system that offers various tools to help you grow your business, including video conferencing, PBX call routing, and faxing. Baseline features for voice calls provide numerous options for call management, including caller ID and call routing, as well as an auto-attendant, call recording, eight custom hold music choices, and call forwarding.
GoToConnect Key Features:
GoToConnect offers support for more than180 deskphone models, in addition to softphone support for mobile apps for Android and iOS.
Each employee can host a conference call with up to 10 participants.
Customer support team is available 24/7 and can be reached by phone, email, and live chat.
Pricing:
1 to 4 users: $29.95/user/month
5 to 9 users: $25.95/user/month
10 to 24 users: $23.95/user/month
25 to 49 users: $21.95/user/month
50 to 99 users: $19.95/user/month
100+ users: Custom pricing
Grasshopper

As one of the best RingCentral alternatives on this list, Grasshopper is one of the newest, yet most well-known business phone providers for smaller teams. Aside from a smartphone and an internet connection, there's no additional equipment needed to get started. Since you can use your own device and are already familiar with how it operates, Grasshopper's intuitive interface makes it easy to use for even the least tech-savvy users to navigate.
Grasshopper Key Features:
Grasshopper offers inbound faxing, voicemail transcription, main greetings, and call routing.
Users can choose from a local, vanity, or toll-free list of telephone numbers.
Grasshopper's phone support team is based in the United States and is available 24/7 to answer questions.
Pricing:
Solo: $29 per month; $26 per month when billed annually for one phone number and up to three extensions
Partner: $49 per month; $44 per month when billed annually for three phone numbers and up to six extensions
Small Business: $89 per month; $80 per month when billed annually for five phone numbers and an unlimited number of extensions
Microsoft Teams

Microsoft Teams is undoubtedly one of the better RingCentral alternatives on the market, blending video conferencing, mobile collaboration, and chat solutions. With over 44 million monthly active users, Microsoft Teams keeps all of your apps, files, meetings, and conversions together in a single shared workspace.
Since its paid plans feature both video and audio calling, they offer the most value for business by letting users access other Microsoft 365 services and Microsoft Office apps. Recently, RingCentral announced its latest robust integration into Microsoft Teams, allowing users to call and meet using RingCentral without needing to leave their Microsoft Teams workspace.
Microsoft Teams Key Features:
Microsoft Teams includes dial-in numbers for more than 400 cities around the world.
Utilize queues, group call pickup, or shared line appearances using the Teams Voice feature.
Users can upload their own hold music, including promotional or advertising messages.
Pricing:
Microsoft Teams Plan: Free (no-commitment)
Office365 Business Essentials Plan: $5.00/user/month (billed annually)
Office365 Business Premium Plan: $12.50/user/month (billed annually)
Office365 E3 Plan: $20.00/user/month (billed annually)
Cisco Webex Calling

Cisco Webex Calling is a cloud-based service that delivers a complete collaboration suite for members to call, message, whiteboard, and share no matter where they are. Optimized for small and mid-sized businesses, Cisco WebEx Calling delivers many of the same benefits of a traditional phone system without the added expenses of hardware-based PBX solutions. Currently, the platform is used by more than 20 million professionals globally.
Cisco WebEx Calling Key Features:
Cisco WebEx Calling comes pre-packaged with standard features like hunt groups, pickup, call transfers, and voicemail.
With its synchronized directory and dial plans, Cisco WebEx Calling is best for mixed cloud, as well as on-premises networks.
The Cloud Connected PTSN (CCP) option features a cloud solution that doesn't require you to purchase an external local gateway.
Pricing:
Starter Plan: $13.50 per host/month (billed annually)
Plus: $17.95 per host/month (billed annually)
Business: $26.95 per host/month (billed annually)
Enterprise: Requires Quote
FreedomVoice

As the world's first 800 number provider, FreedomVoice has been helping businesses scale their growth since 1996. While they only offer three phones, two are already included in the service, with the third costing an extra $5 per month. And unlike competitors, The Freedom Voice Cloud PBX hosts your phone system in the cloud, not at your location.
FreedomVoice Key Features:
Customizable virtual receptionists can answer calls with a custom greeting, helping the caller get in contact with the right person on your team.
Using the FreedomVoice mobile app available for iOS and Android devices, employees can freely make and receive calls, manage faxes and voicemails, and utilize the one-touch dialing feature to call contacts.
CloudNumber users have access to automated attendants, an after-hours greeting, smart number routing, call forwarding, custom hold music, call screening, recording, voicemail, voicemail transcription, online fax, and call blocking.
Pricing:
Start: $9.95/month/user (400 free minutes; 3.9 cents per additional minute)
Edge: $19.95/ month/user (1,200 free minutes; 3.9 cents per additional minute)
Suite: $29.95/ month/user (3,000 free minutes)
Nextiva

Since 2006, Nextiva has been expanding its offerings to compete with other RingCentral alternatives in the industry. Nextiva's client base spans small companies, mid-sized organizations, and larger enterprises like international airlines. Nextiva users report that calls are often clear and devoid of static or other background noises.
Nextiva Key Features:
In addition to advanced call management and unlimited calling with Cloud PBX, Nextiva boasts features like instant messaging, conference calls, and web collaboration tools that are built directly into the platform.
Nextiva conference bridge can connect up to 9 callers at multiple locations into the same live call at one time.
Users can customize their own experience with the many advanced integrations available.
Pricing:
Office Pro: $19.95/month
Office Pro Plus: $22.95/month
Office Enterprise: $29.95/month
With NextPlane, You Can Connect Any Team, Any Platform, Anytime.
The success of any business hinges on whether or not its employees can perform as a cohesive team. In the new age of remote work and WFH, true collaboration can only be achieved with effective team collaboration tools. That means it's more urgent than ever for organizations to leverage these platforms to keep their team members on the same page.
Our recent survey shows 79% of companies are operating in a mixed collaboration environment, which can include Microsoft Teams, Slack, and Cisco Webex Teams as well as legacy UC platforms such as Microsoft Skype for Business or Cisco Jabber.
NextPlane enables users on different collaboration platforms to connect with their colleagues, inside or outside their enterprise. Users can chat & DM each other with rich text, GIF, and emoji reactions, share presence status, participate in channels, and share files without leaving their preferred platforms.
NextPlane seamlessly connects 750,000 enterprise users every day from thousands of Global 5000 companies, enabling real-time communication regardless of different internal or external collaboration platforms.
For more information, please visit NextPlane, or book a free 30-minute call with a NextPlane expert.