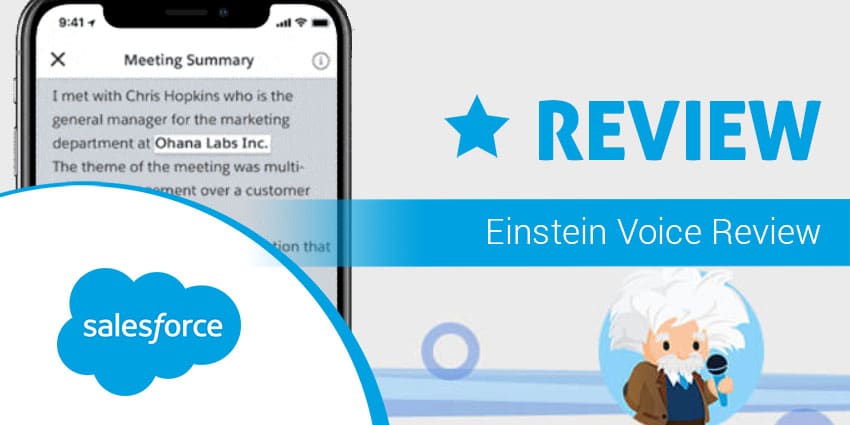 Salesforce Einstein Voice: The Review
In a world where the cravings for Artificial Intelligence has been the most attention dragging tool. The new Einstein Artificial Intelligence product has been admitted as the present world's best customer relationship management( CRM). The company has had other software developers such as IQ, predictions and other expertise.
Business owners and companies have seen the usefulness of these machine tools. Proffering an easier and simpler way of dealing with business tasks. Einstein voice AI has made it more possible to talk to computers to notify you of calls, read messages, type messages, research files, and others. With the mass demand for professional speakers and virtual assistants, Einstein has made it easier by introducing this Voice-activated machine.
Salesforce Einstein Voice Features
This new outlet of Salesforce discovery was built with the motive of relieving clients and workers from everyday data research. Einstein AI can be used to automate tasking duties. With this new inventions, employees can have access to a number of projects such as:
Get an early morning voice-activated briefing.
Access dashboards
Make and begin self speech
Access and collect relevant data from or outside Salesforceoost.
Discover relevant solution on Salesforce
Open and access service cases
Designs and identifies any task you require.
Easier note-taking procedure on Salesforce by mobile devices.
Automatic sending of files to the required destination.
Auto-collection, and analysis of data into designated sections.
Thanks to Google Assistant and Amazon Alexa, Einstein has been able to integrate with these platforms to serve better daily updates on key events like upcoming events or schedules.
Is Einstein Voice suitable for Microsoft team users?
This software is in good fit with Microsoft products ranging from Microsoft Edge, Microsoft Explorer 11 and other Microsoft versions. Salesforce is also compatible with the recent Mozilla Firefox and Chrome ( Google browser).
In this note, I would like to inform you that this software is not currently available on the Apple Safari browser.
Compatibility
The Einstein Voice Assistant is compatible with a wide range of devices. This also applies to Einstein's voice skill. They are available in mobile devices for Android and iOS applications.
Zoom Function
Salesforce Browsers that are not zoomed to 100% can not be supported for Analytics.
Screen Resolution
The minimum screen resolution required to support all Salesforce features is 1024 x 768 pixels.
Dashboards
Einstein interface and dashboards are built with unique features that help you access all relevant files. Einstein provides a means of creating a new dashboard for your business. Use dashboards to help users identify trends, sort out quantities, and measure the impact of their activities.
Pricing and Purchase
This software is available on the Salesforce website it can be purchased by individuals across the globe. It is helpful for both individuals and business owners.
Einstein Voice skill or Einstein Voice Assistant?
Einstein Voice skill formerly known as the Einstein Voice builder is for creating voice-enabled by a corporate application. It is built in such a way that the companies admin can choose the customer relationship management (CRM) activities. These tools give room for businesses to create tasks, manage and execute customer relationship management duties. Einstein Voice skills also provide options as to how you want the information to be sent to users. It also provides room to control information such as the next step, etc.
On the other hand, Einstein Voice assistant is developed for individuals who like to spend little time searching the net and require extra hands. It has the ability to extract data from a user account. Einstein can also be taught to learn users' language and slang.
Published 01/8/20