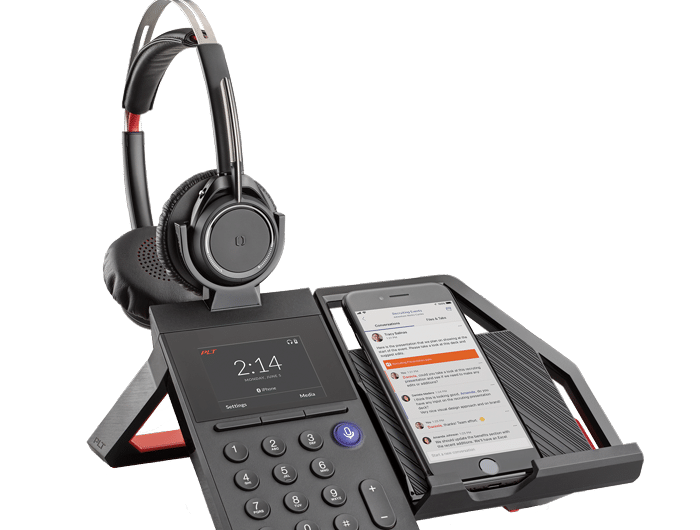 Poly Elara 60 Series: The Microsoft Teams Mobile Phone Review
It has been reported that while 43% of employees are office-based, 30% use smartphones for business. Studies have also shown that the use of mobile phones increases workers' productivity. Businesses that encourage actively mobile workers are constantly seeking innovations for greater efficiency. That's where the Plantronics (Poly) Elara 60 series technology comes in.
This recently launched Plantronics Poly Elara 60 Series is one of the best things that happened to collaborations today. It is an on-desk mobile collaboration solution for enhanced smartphone communications. According to Plantronics, Poly Elara Series was created to elevate the smartphone experience. They have successfully combined the workplace and smartphones into a complete unit. The aim of this is to give workers the freedom to be more productive. Now let's see what the Poly Elara Series has to offer its users.
Features of the Poly Elara 60
Poly Elara 60 provides a three-way user experience as an added advantage. First of all, it offers an extension of the powers of mobile smartphones. This it combines with the convenience of a desk phone. The best part of all is its seamless integrations with Microsoft teams. Here are the key features of the series;
Dedicated Microsoft Teams button with Microsoft Cortana Voice Assistant.
Bluetooth 4.2 with a range of up to 30 feet
LED colour display of caller information
Dial pad with programmable soft keys
Multi-coil wireless and corded mobile phone charging options
Kensington lock compatibility for safety and security
The built-in speakerphone of high quality
Wireless streaming of music or media from mobile phone
Advanced headset features, variable with the mobile site. These features include smart sensors, dynamic mute alert, hi-fi stereo sound and active noise cancellation.
Easy connections to a wired or wireless headset
Of what benefit are the Poly Elara 60 Series features to users for Microsoft teams' integration?
Device Packaging
The packaging is the first thing you would notice once you inbox. your Poly Elara 60 series. This device is carefully packaged and sealed in a safe and attractive condition. This packaging is so secure that it should be able to survive a drop test. It has a quick start guide to help you find your way around the device. In the box, there is the base station, power supply unit and different kinds of power connectors.
Installation
With the start guide, installation is quite easy to perform. You just need to plug it to the power outlet and then pair with your mobile device. It has a viewing plate with a cradle you can adjust to about four different positions. This is most beneficial for vertical or horizontal placement of phones during video calling.
Connectivity
Elara 60 will automatically connect to a pre-installed Microsoft Teams app on your phone. The only limitation involved may be the screen size of the mobile phone. Aside from this, the connection provides access to all teams features. As soon as you are within range, the Elara 60 series will connect instantly via Bluetooth. This connection lets you use all the Elara 60 functions you require.
Audio quality
The device must be lauded for its great audio quality and bass response. It usually comes with a voyager focus UC stereo Bluetooth headset with active noise cancelling. This feature helps to eliminate background noise and maintain focus on conversations. Volume can be easily adjusted to preferable levels. The in-built speaker is outstanding and most suiting to the device's primary function. This 50mm speaker is located downwards so it takes advantage of the surface to amplify sounds.
Flexibility with Multiple Devices
Elara 60 series supports all mobile phones that offer Bluetooth services. It works well with iOS or Android smartphones. The size of the phone is not an issue to worry over. The largest phones can be placed in portrait or landscape for ease and efficiency. Users can leverage on the front-facing camera for video calls, meetings and webinars. Its flexibility enables it to accommodate the individual needs and specifications of its diverse users.
Customizability
The device offers a host of customizable options to suit all users. Thus you have the liberty of manipulating your device settings to your preference. This feature is aided by a separate Plantronics Manager Pro Software service. This web-based service is used to configure and update settings and software. This software allows IT professionals to manage their devices easily. With this, employees can be provided support before problems arise. It provides new insights into your communication environment and improves user experience.
Integrating Poly Elara 60 with Microsoft teams
Poly and Microsoft have enjoyed an over 15 year's collaboration with many upgrades to show for it. Users can with a one-touch or voice activation Microsoft Cortana tool connect with Microsoft Teams. It supports customers using the Microsoft collaborating platforms. These include; Teams, Skype for business or Office 365.
To operate, you set your phone on the Poly Elara and get to work. The wireless charging can keep your device battery full. There is also a USB alternative for charging devices.
Is Poly Elara 60 Series good for Microsoft team users?
This device was designed specifically for use with Microsoft products. This close relationship enhances the collaboration potential of Microsoft teams. The poly Elara 60 system provides instant access to teams at a click of a button.
Price and buying
This product is available through Plantronics and Polycom resellers. This device is recommended for users all over the world. The services are suitable for a wide range of consumers and businesses. Businesses that want to ensure their employees' productivity will benefit from it. It is an easy way to stay professional and collaborate easily without restrictions. It is cost-effective, reliable and thus worth your penny.
Final Thoughts
One of Plantronics' managers announced that this innovation is a product of in-depth research. This research was carried out on customers and on the industry as a whole. The aim is to solve the challenges faced and enhance user experience. The Elara 60 series represents a new generation of work tools that mobile workforces will appreciate. With Elara, you can turn your smartphone into an incredible collaboration tool.