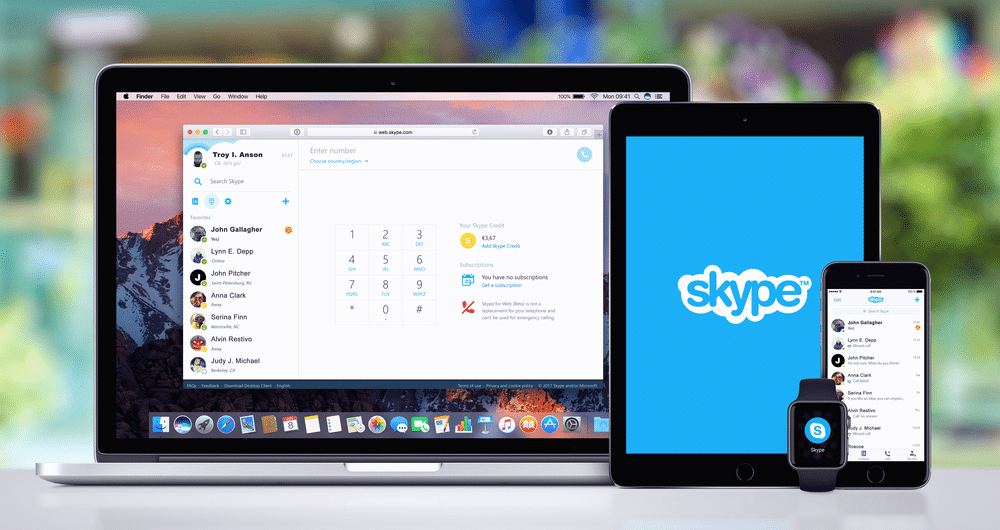 Get Ready, Microsoft to Retire Skype for Business in 2021
As things get better and there are new breaks in technology, end users will have to clear out the old to accommodate the new. These new inventions are usually based on the increased appetite of customers in order to enjoy more value.
This time in the world of business communication and collaboration, the heavyweight Microsoft has announced that the renowned Skype for business online will be retired in 2021. The veteran app will be replaced by a much smarter and efficient alternative – the Microsoft Teams, which will serve as the product in charge of meetings and collaboration.
Microsoft has previously announced that Skye for Business will be displaced as the primary tool for video conferences, calls and meetings using the Office 365 in cloud with Teams. However, this is the first time a particular date has been attached to the transition.
In the space of the 2 years leading up to the retirement of Skype for Business, existing users will not experience any changes in service or functionality.
Starting from the 1st of September 2019, Microsoft will migrate any new Office 365 customer directly to Microsoft Teams for calling, chat and meetings. Microsoft have also assured that the Skype for Business Service and the Skype Consumer server will be unaffected by this move.
Also, in consonance with the scheduled timeline of the migration, support for the integration of third-party Audio Conferencing Providers (ACP) into Skype for Business has been extended to the last day of July, 2021, with limited support for active users to provide an additional time for the switch. The previous time was 2020 and the extended time is in order to allow as many customers be a part of the transition.
What to Expect from the Transition to Teams
This news have been anticipated by business giants and with Microsoft confirming the date, we all can rub our palms together in optimism.
Skype for Business was designed in 2014 as an upgrade to what was being offered by the consumer version of Skype, which was one of Microsoft's biggest acquisition at 8.5 billion dollars.
Although Skype for Business has been one of the most popular Microsoft products, the switch to Teams will provide more in terms of improvement for the tools, as the upgrade puts it in a better position to take on major rival, Slack.
Microsoft revealed that Teams already have 13 million daily active users with the tool just 2 years old. The company also announced that it has worked closely with customers to refine and make Teams better and now, they are rest assured that the tool can be recommended as an upgrade to all existing Skype for Business online customers.
The new features
Upon the announcement that Teams will dislodge Skype for Business as the new communications solution, Microsoft has also announced some new features.
Dynamic 911: this is a top grade security system feature of the Microsoft Teams phone system. The Dynamic E911 automatically obtains the caller's location and routes it to a Public Safety Answer Point (PSAP) call centre which is being operated by the local government.
Shorter Retention periods: the all new retention period options will allow customers limit channel aswell as chat retention periods to as short as a day. Also, this will ensure that when data is deleted, it is removed from all the permanent location within Teams. The shorter retention periods will be available in Teams by the end of the year
Teams and Skype Customer Interop: this new feature is highly commendable as it introduces a more flexible communication approach. The interop between Teams and Skype consumers will allow users of both services to communicate via calls and chats.
The Teams and Skype consumer interop will be available on a later date, specifically in the first quarter of 2020
Contact Centre Integration and Compliance Recording: earlier this month, it was announced that Teams will partner with Genesys, Five9 and NICE to foster a Contact Centre solu#tions, they will also partner with ASC, NICE and Verint for the provision of Compliance Recording. Teams is also working with Skype for Business online verified partners to bring other contact centre and compliance recording solutions to end users.
A Sneak Peek into Microsoft Teams
Skype for Business online is captured under the Microsoft Modern Lifecycle Policy which clearly states customer and Microsoft responsibilities. The terms include as quoted below
"For products governed by the Modern Lifecycle Policy, Microsoft will provide a minimum of 12 months' notification prior to ending support if no successor product or service is offered—excluding free services or preview releases."
In this case, as an expression of Microsoft's willingness to ensure that no one is left behind and knowing the size of this project for some organizations, they are giving double of the notice their contractual obligations state.
Microsoft is already helping organizations and users of Skype for Business Online get ready for the switch via several tools and guides to guarantee a seamless migration.
The resources and tools include best practices example, free instructor-led training, Planning Resources aswell as accelerated on-boarding assistance for specific Office 365 packages.
In some instances, Microsoft has already initiated the process of an automatic upgrade for suitable Skype for Business Online Members to Microsoft Teams. An accelerated migrations exercise should also be expected in order to ensure that everything goes according to the scheduled timeline.
Summary
Although the news of Teams taking over from Skype for Business as the communication and collaboration solution has been duly anticipated by users, the pronounced expiry date is expected to propel several organizations to action. There has been different guides and tools to help users understand the new look and get properly accustomed.
Microsoft is focussed on helping its customer base and clients across the board to take definitive steps on an expedition that leads to a more efficient collaborative solution. Microsoft Teams have drawn several comments across the globe and the general feedback lauds Microsoft for their innovation and quest to make communications easy.