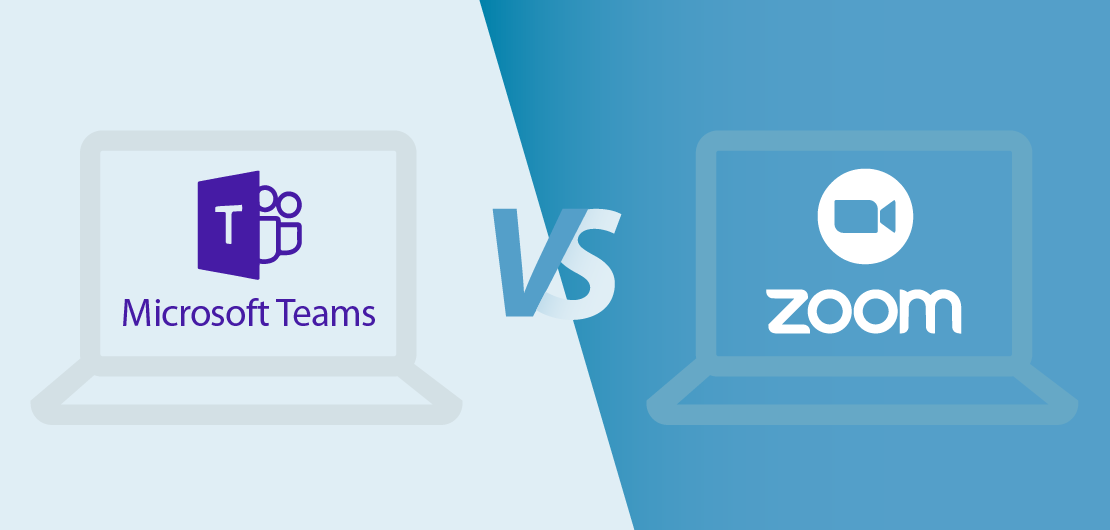 Microsoft Teams vs. Zoom: Which One is Better?
As the demand for remote and mobile work increases, the need for effective collaboration is growing, too. Whether you want to enjoy a virtual happy hour with friends or host a business meeting with colleagues, Microsoft Teams and Zoom are two popular options that can make either scenario a reality.
Microsoft Teams is an all-in-one collaboration tool designed to facilitate real-time messaging, screen sharing, file sharing, organized conversations, and voice and video conferencing. Alternatively, Zoom is the undisputed leader in the video communications market.
While both tools offer plenty of similar features, a few key distinctions may end up swaying you one way or another. In this comprehensive guide, we'll show how these two apps compare so that you can choose the best one for your needs. Let the battle of Microsoft Teams vs. Zoom commence!
Microsoft Teams vs. Zoom Features and Capabilities
At a high level, Microsoft Teams and Zoom can offer a similar range of features. Drill in a little deeper, and you'll find a more nuanced set of service offerings.
Microsoft Teams Features
Navigation: With Microsoft Teams, messaging is the core focus, and visually, it's far more streamlined than its competitors. There are also three customization options for the sidebar, including default (light), dark, and high contrast.
Organized Conversations: Microsoft Teams allows you to create channels to target your discussions, chat with internal and external users, and host audio or video conferences with other team members. It also provides more of a word processing-like experience where you can select your preferred font size and color, apply different paragraph styles, and include a table wherever necessary.
Connected Apps: You can integrate the apps you use most often into Microsoft Teams to create a truly collaborative workspace. These include apps from the cloud-based Microsoft Office 365 suite.
Voice Calling: Microsoft Teams lets you enjoy one-on-one voice calls with others within your organization.
Video Conferencing: Microsoft Teams excels at video calls, allowing up to 250 people to join in a single call. Microsoft Teams' rich video chat capabilities make it an ideal solution for both medium-sized and large businesses.
Screen Sharing: During your audio calls with team members, Microsoft Teams offers a ton of screen sharing options. You can share from desktop and mobile versions of Microsoft Teams, through Microsoft Whiteboard, or through another third-party app.
Search Capabilities: Every document shared in Microsoft Teams is saved to the cloud, which means you can always count on working with the latest version.
Zoom Features
Navigation: Zoom is known for its simple, intuitive, and user-friendly design. The navigation menu, located at the bottom of the window, makes it easier to manage your meetings, recordings, and contacts. Plus, your profile information can be managed right from the menu next to your name.
Organized Conversations: Channels let you build private or public group chats, files, images, screen captures, and launch group meetings with or without videos. You can add up to 10,000 members with public channels, up to 5,000 on private channels on paid accounts, and up to 500 on private channels on free accounts.
Connected Apps: Zoom is designed to work in tandem with various third-party apps like HubSpot, Slack, and DropBox.
Voice Calling: Zoom developed its own cloud-based phone, offering most of the phone-based advantages that Microsoft Teams delivers while also giving users the option to bring their own carrier for a smoother call experience.
Video Conferencing: Zoom offers a variety of video conferencing features, spanning support for meetings with up to 100 participants—or up to 1,000 with the proper meeting license—virtual backgrounds, scheduling and calendar integrations, whiteboarding, and the coveted "Touch Up My Appearance" feature.
Screen Sharing: Whether your meeting is one-on-one or with multiple individuals, simultaneous screen sharing makes it possible to share your screen with your fellow team members on all devices.
Search Capabilities: "With Zoom's search capabilities, contact centers can access more varieties and volumes of data with greater effectiveness and speed," according to Brian Shore, Zoom's chief executive officer.
Microsoft Teams vs. Zoom Security and Compliance
With the right collaboration tool, you can do everything from share files to participate in video conferences. Of course, there's a catch. You need to be prepared for new security threats that may arise.
Microsoft Teams Security
Protecting Sensitive Data: While Microsoft Office 365 offers some necessary data leakage prevention resources, it's still unclear whether these capabilities have made their way into the Microsoft Teams app.
Account Compromise: Microsoft Teams leverages identity best practices by offering two-factor authentication, as well as SSO via AD and SAML.
Data Encryption: Microsoft has guaranteed data-at-rest and in-transit encryption for Microsoft Teams, allowing the organization to use cloud apps while preserving the security of its premises' environment.
Compliance and Security Audits: Microsoft has stated that Microsoft Teams is Office 365 Tier C Compliant at launch, covering the SOC I and 2, ISO 27001, HIPAA, and EU Model Clauses.
Zoom Security
Protecting Sensitive Data: With many cybercriminals taking advantage of Zoom's privacy vulnerabilities, you can keep your Zoom meetings secure by updating your application and restricting permissions regularly.
Account Compromise: Zoom offers a wide range of authentication processes, including SAML, OAuth, and/or password-based, which can be enabled for any account.
Data Encryption: As part of Zoom 5.0, the platform will soon be offering AES 256-bit GCM encryption, the "gold standard" for encryption that is used frequently by the U.S. government to protect their data.
Compliance and Security Audits: In the coming months, Zoom is planning to conduct third-party security audits. Today, the company is compliant with HIPAA, FERPA, PHIPA, and GDPR privacy regulations.
Microsoft Teams vs. Zoom Pricing Structure
Pricing can be a make-or-break factor for many businesses. When reviewing Microsoft Teams vs. Zoom, figure out which one will yield a higher return on investment.
Microsoft Teams Pricing
Microsoft Teams is available to all Microsoft Office 365 account holders.
The free version supports up to 300 users and provides 2 GB of file storage, as well as 10 GB of cloud storage per user. While team members can be divided into different channels that include audio and video calling, you cannot record your meetings. However, you can integrate with other Microsoft Office applications like Word, Excel, PowerPoint, and OneNote.
For more storage, better security, and several integrations with other Microsoft Office applications, the Office365 Business Essentials plan is your go-to at just $5.00 per user per month.
If you want access to desktop versions of Outlook and Word and higher data limits, the Business Premium plan will cost you $12.50 per user per month.
With the Office 365 E3 plan, you can install Office mobile apps on up to five Macs or PCs, five tablets, and five mobile phones per user for $20.00 per month.
Pricing Plans:
Microsoft Teams Plan: Free (no-commitment)
Office365 Business Essentials Plan: $5.00/user/month (billed annually)
Office365 Business Premium Plan: $12.50/user/month (billed annually)
Office365 E3 Plan: $20.00/user/month (billed annually)
Zoom Pricing
With Zoom's free version, you can host up to 100 participants in an unlimited number of meetings.
The Pro plan starts at $14.99 per month per host, which is ideal for smaller teams and can host 100 participants with meeting duration limits capped at 24 hours. Users also have 1 GB of MP4 or MP4A cloud recording to work with.
Available for a minimum of 10 hosts, Zoom's Business plan costs $19.99 per host per month and can accommodate 300 participants, making it a great option for small and medium-sized businesses.
And finally, available for $19.99 per host per month is the Enterprise plan, which is built for 500 participants and includes unlimited cloud storage, as well as a dedicated customer success manager.
Pricing Plans:
Basic Plan: Free (no-commitment)
Pro Plan: $14.99/month/host (billed monthly)
Business Plan: $19.99/month/host (billed monthly)
Enterprise Plan: $19.99/month/host (billed monthly)
Microsoft Teams vs. Zoom in the Future
As we mentioned at the outset, Microsoft Teams and Zoom have strengths and weaknesses that can make it difficult to pick a clear winner. Naturally, the right choice depends on your team, your workflows, and numerous other factors.
With the recent surge in remote work, both apps have experienced unprecedented growth over the past few months. Currently, Microsoft has 75 million daily active users, up from 44 million on March 19, 2020, while Zoom's usage increased by 677% between February 17 and June 14, 2020.
With numbers like that, it's safe to say neither of these tools is going anywhere anytime soon. We hope our Microsoft Teams vs. Zoom showdown has shed some light on how they can help your business run more smoothly.
With NextPlane, You Can Connect Any Team, Any Platform, Anytime.
As IT struggles to manage an increasingly fragmented collaboration environment, and deal with WFH challenges, NextPlane powers always-connected collaboration and communication for any enterprise, its users, and its external partners and customers.
Our recent survey shows 79% of companies are operating in a mixed collaboration environment, which can include Microsoft Teams, Slack, and Cisco Webex Teams as well as legacy UC platforms such as Microsoft Skype for Business or Cisco Jabber.
NextPlane enables users on different collaboration platforms to connect with their colleagues, inside or outside their enterprise. Users can chat & DM each other with rich text, GIF, and emoji reactions, share presence status, participate in channels, and share files without leaving their preferred platforms.
By using NextPlane, companies with mixed environments, such as IBM, Novo Nordisk, Ericsson, Emerson, and others, have increased their internal or external collaboration by 50%.
For more information, please visit NextPlane, or book a free 30-minute call with a NextPlane expert.