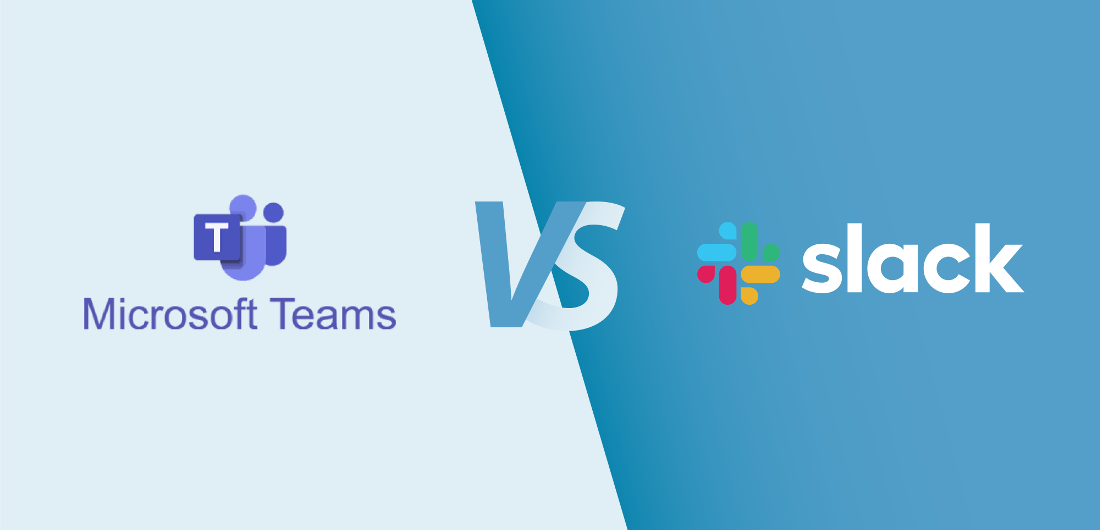 Microsoft Teams vs. Slack — Which is Best For Your Team?
Today businesses need to be fully digital to maximize productivity. As workplace behaviors continue to shift, companies are starting to use collaboration platforms to facilitate and maintain cohesion between team members across locations and time zones. Microsoft Teams and Slack are the indisputable leaders in this market. While both tools offer chat, automated notifications, and numerous other capabilities, there are a few notable differences. In this Microsoft Teams vs. Slack faceoff, we'll compare features, pricing plans, and more to help you determine which one is right for your business. Also, we'll show how easy Slack to Microsoft Teams integration works with Nexplane solution.
Teams vs. Slack: Features and Capabilities
When shopping for enterprise collaboration applications, Microsoft Teams and Slack lead the pack, consistently adding new features to set their products apart.
Microsoft Teams Features
Navigation: With Microsoft Teams, messaging is the central focus and stylistically, it's far more corporate and streamlined. It also offers three customization options for the sidebar, including default (light), dark, and high contrast, to accommodate the visually impaired.
Organized Conversations: Microsoft Teams allows you to create channels to focus discussions, chat with internal and external users, and have audio or video calls with other members. When compared to Slack, itprovides more of a word processing-like experience where you can choose font size and color, apply paragraph styles, and add a table wherever necessary.
Connected Apps: Integrate the apps you love into Microsoft Teams to create a true workspace for teamwork. These include apps from the cloud-based Microsoft Office 365 suite.
Voice Calling: Microsoft Teams lets you enjoy seamless one-on-one voice calls with team members within your organization.
Video Conferencing: Video calls are where Microsoft Teams shines, permitting up to 250 people to join in a single call. Microsoft Teams' full-bodied video chat capabilities make it an ideal solution for medium to large businesses.
Screen Sharing: When you're on an audio call with colleagues, Microsoft Teams offers plenty of screen sharing options. You can share from desktop and mobile versions of Microsoft Teams, through Microsoft Whiteboard, or via a third-party app.
Search Capabilities: Since every document shared in Microsoft Teams is saved to the cloud, you can always rest assured that you're working with the latest version—no searching necessary.
Slack features
Navigation: While both tools have their main navigation in sidebars on the left-hand side of the screen, Slack offers more customization options than Microsoft Teams, with ten different ways to modify the sidebar's look and feel. However, Slack's design is not as focused, placing more emphasis on channels than on messages.
Organized Conversations: Slack enables you to form channels for teams, projects, office locations easily, and send messages and share files within those channels. While its text formatting capabilities aren't as robust as Microsoft Teams, you can use emojis to liven up messages.
Connected Apps: Easily find and add apps to your workspace to connect the tools you're already using in Slack. There are thousands of apps to choose from to help you stay organized in the Slack App Directory.
Voice Calling: With Slack, you can start a voice call with other team members and share your screen to show everyone what you're seeing. Just open a message and click on the phone icon in the top right-hand corner and a pop-up notification will appear on the other person's screen.
Video Conferencing: Slack's video chat feature allows you to start video calls with up to 15 participants once you click on the phone icon. Video calls are conducted through a pop-up window within the app.
Screen Sharing: Being that meetings are meant for exchanging ideas, Slack lets you present your screen, draw on your screen, and allows others to make notes and draw on your screen. All you have to do is click the "Share your screen" icon in the middle of the page.
Search Capabilities: Every file sent through Slack is indexed and retrievable. Using basic search modifiers and next-level shortcuts, you can find all the relevant messages, files, and channels.
Teams vs. Slack: Security and Compliance
Keeping your data secure in a cloud-based collaborative business environment is tougher than ever, as cybercriminals are always seeking new ways to steal your data.
That's why security and compliance have become critical aspects of any sustainable collaboration solution. Both Microsoft Teams and Slack understand the strategic role security plays and offers plenty of features to help your business preserve its data integrity.
Microsoft Teams Security and Compliance
Sensitive Data Leakage: While Microsoft Office 365 offers some necessary data leakage prevention capabilities, it's still unclear whether these capabilities have made their way into Microsoft Teams.
Account Compromise: Microsoft Teams leverages identity best practices by offering two-factor authentication, as well as capabilities like SSO via AD and SAML.
Data Encryption: Microsoft has pledged data-at-rest and in-transit encryption for Microsoft Teams, allowing the organization to use cloud apps while maintaining the security of its premises environment.
Compliance and Security Audits: Microsoft has stated that Microsoft Teams is Office 365 Tier C Compliant at launch, covering the SOC I and 2, ISO 27001, HIPAA, and EU Model Clauses.
Slack Security and Compliance
Sensitive Data Leakage: Slack doesn't currently offer any built-in data leakage prevention capabilities for recognizing and limiting access or sharing of sensitive company data.
Account Compromise: A must-have for any enterprise cloud application, "Slack supports two-factor authentication natively, and SAML SSO can be enabled for "Plus" accounts for integration with a third-party identity system such as a CASB or an IDaaS," according to Cybersecurity Insiders.
Data Encryption: Slack notes that every piece of data is encrypted at-rest and in-transit using, "the latest recommended cipher suites and protocols."
Compliance and Security Audits: Slack has already undergone a SOC 2 audit, yet does not make any claims regarding compliance under PCI-DSS, HIPAA, or any other industry-specific regulatory directive.
Teams vs. Slack Pricing Structure
Although Microsoft Teams and Slack both have ample features and functionality in common, a flexible and affordable price plan can often be what compels key decision-makers to choose one over the other. When examining each application, determine which one is going to give you your money's worth. Since both of these products are highly popular and effective, expect to pay top dollar for either.
Microsoft Teams Pricing
Teams is available to all Microsoft Office 365 account holders and offers a free plan as well. The free version supports up to 300 users and provides 2 GB of file storage and 10 GB of cloud storage per user. Team members can be split up into different channels that include audio and video calling. The free plan also enables you to integrate with other Microsoft Office applications like Word, Excel, PowerPoint, and OneNote.
Microsoft also offers users a variety of package upgrade options, including the Microsoft 365 Business Basic upgrade for $5.00 per user per month, the Microsoft 365 Business Standard upgrade for $12.50 per user per month, and the Office 365 E3 upgrade for $20.00 per user per month.
Pricing Plans:
Microsoft Teams Plan: Free (no-commitment)
Office365 Business Essentials Plan: $5.00/user/month (billed annually)
Office365 Business Premium Plan: $12.50/user/month (billed annually)
Office365 E3 Plan: $20.00/user/month (billed annually)
Slack Pricing
Like Microsoft Teams, Slack also offers a free version of its business tool. However, its free plan is more constrained, offering unlimited chat, 5 GB of storage, and ten apps and integrations.
Additional features spanning screen sharing, guest access, unrestricted app integrations, and more file storage are only available with monthly subscriptions.
Slack's Standard Plan provides 10 GB of file storage, unlimited chat history, and voice calls for no more than 15 participants for $6.67 per person per month.
The Plus Plan provides 20 GB of storage, unlimited message channels, and round-the-clock support with an average four-hour first response time for $12.50 per person per month.
You'll need to contact the sales team to learn more about Slack's special Enterprise-level plan.
Pricing Plans:
Freemium (no-commitment)
Standard Plan: $6.67/user/month
Plus Plan: $12.50/user/month
Enterprise Grid (contact sales team)
Compare Features, Security, and Pricing for Teams vs. Slack in All-in-one Infographics We Prepared

Microsoft Teams vs. Slack in the Future
Microsoft Teams has overtaken Slack as the market leader and top choice for enterprises, boasting 44 million daily users, next to Slack's 12 million. While many argue that Slack is the more innovative and user-friendly tool, Microsoft Teams may be the better option since it integrates natively with Office 365 tools.
However, with many people using other services for certain features already available within the Slack platform, a new strategy may be underway. Slack co-founder and CEO Stewart Butterfield recently announced that the company is working on integrating the calling features from Microsoft Teams into Slack's chat app. This partnership may be what bridges the gap between communication platforms and eventually sets you up for success.
Final Thoughts
In 2019, the team collaboration software market climbed to a staggering $9.5 billion globally and is expected to continue at an annual growth rate of 12.7% through 2027. It's safe to say that Microsoft Teams and Slack aren't going anywhere anytime soon.
In the battle of Microsoft Teams vs. Slack, you can pick both.
After all, you want to build a team collaboration environment that best suits the needs of your different teams.
Slack to Microsoft Teams Integration with Nextplane
Our recent survey shows 79% of companies are operating in a mixed collaboration environment, which can includelegacy UC platforms such as Microsoft Skype for Business and Cisco Jabber.
NextPlane enables mixed collaboration environments to deliver the same seamless functionality as email; users can send messages, share presence status, participate in channels, or share files, without leaving their preferred clients.
By using NextPlane, companies with mixed environments, such as IBM, Merck, Nokia, and others, have reduced their total cost of ownership and administrative burden by 50%.
This video shows users on Microsoft Teams and Slack seamlessly sending DMs as if they are on the same platform. This is how simple Slack to Microsoft Teams integration with Nextplane is.