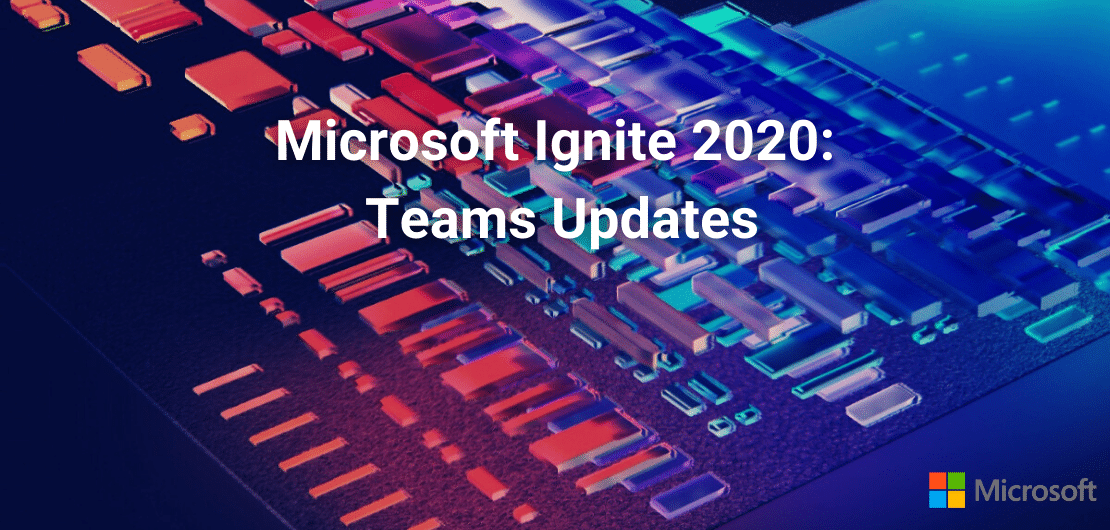 Microsoft Teams Updates at Ignite 2020: What's New
Microsoft just wrapped up its first-ever digital Ignite conference. At this annual event, the company has presented plenty of announcements around Microsoft Teams for tech leaders and the community. In this blog, we will highlight the most significant Microsoft Teams announcements from Ignite 2020 for you to stay updated with the most remarkable features to be enrolled in Teams this year.
Major Microsoft Updates by Categories:
Meetings
Meeting rooms
Calling
Chat and Collaboration
Integrations
Security and compliance
Meetings
New Together mode scenes
Together mode scenes in meetings help participants to feel closer together even when working remotely. With new Together mode scenes coming this year, users can style up team meetings with a variety of settings that can help set the mood and create a unique experience for your meeting, whether it is a bar, an auditorium, or an outdoor location.
Custom layouts
Custom layouts in presentations is another update coming up later this year. This feature enables presenters to customize how content displays for participants during a meeting. So, when a presenter shows slides, the other participants of the meeting will be able to see the presenter's video feed layered on the top of the presentation they are talking about.
Breakout rooms
This update to be enrolled in October this year will allow meeting participants to gather in smaller rooms for brainstorming sessions or workgroup discussions. Participants will be able to switch in between rooms, close or create new rooms if needed, and create announcements for the whole team to bring them to the main meeting.
Meeting recap
The new useful update enabling meeting recaps is going to be released later this year. This update will include the meeting recording, shared files, chat, and more in the Chat tab and in the Details tab for each meeting. The recap feature will also be available in the Outlook calendar in the event details.
Webinar registration and reporting
For better meetings management, the new update with webinar registration and reporting will come out soon. After users register for a meeting, they will get a sequence of email reminders, which will make it easier to manage the attendance of your virtual events. After each session, users will get detailed reports to understand the level of meetings' engagement better. These features will come out by the end of this year.
Meeting Rooms
Microsoft Teams Panels
In the beginning of 2021, Microsoft Teams will start supporting new categories of devices. The new tablets from Crestron and Yealink are offered to establish outside of the meeting rooms in office buildings and will give the ability to book meeting rooms, check their availability, and view upcoming reservations. Also, these devices will allow you to check floor plans and book other rooms through the 'Nearby Rooms' feature.
Deploy Two Free Microsoft Teams Rooms
Another beneficial update was announced at Ignite 2020. Now the Microsoft Teams users are enabled to have two Microsoft Teams Rooms for FREE. Even more – Microsoft with their specialized rooms partners will help customers to deploy these meeting rooms at zero cost! Learn more about this offer via the link.
Calling
New Calling Experience
The user experience of Microsoft Teams continues improving and this year you'll see a bunch of enhancements in calling feature. These enhancements will include a streamlined view of your contacts, calling history, and voicemails all-in-one. The new experience allows performing the most frequent call-related actions just in one click.
Collaborative Calling
With this new calling feature, you will be able to connect a call queue to a channel in Teams. Collaborate and share info within the track when being on calls in the queue. Teams admins can also connect the call queues to specific channels so team owners can manage the settings.
New Calling Plan Countries
Microsoft Teams is expanding the list of the Microsoft Teams Plan countries on October 1st, 2020. The new countries added to the list include Switzerland, Austria, Denmark, Portugal, Italy, and Sweden. Learn more about your country and regional availability for Audio Conferencing and Calling Plans via the link.
Chat and Collaboration
Teams Templates
The next long-awaited update Is Teams Templates. This update allows to make templates of your teams' structures, attach the needed apps to each of them, and easily scale your organization's best practices across the company. You can choose from a pre-built business scenario or create your own ones. Each template includes the pre-defined set of channels, apps, and guidance. Learn more about this feature and check the available sets of Teams templates here.
Info pane, Pinned posts, and "New Conversation" button in Channels
Some changes to the channels information pane that has been already enrolled earlier this year. You might already notice them – a summary about channel active members, important pinned posts, and important information attached to each channel. Additionally, Microsoft added a prominent 'New Conversation' button to the bottom of each channel to quickly start a new channel conversation.
New search capabilities
Microsoft Teams updated the search functionality to make it intuitively easier to find all the activities, files, people, and answers you may need. The search results will be based on the people and content you engage the most in Teams and also in Microsoft 365 services.
Increase to team membership
The number of team members per individual plan is going to increase again! Currently, it counts 10K members, but later this year the number of free members is going to be 25K per one individual plan!
Microsoft Lists in Teams
Earlier in September this year, Microsoft released the Microsoft Lists app in Teams. Lists help in tracking patients, loans, issues, assets, routines, contacts, inventory and more using customizable views and smart rules and alerts to keep everyone from your team in sync. The latest update offered by a company adds lists to a separate tab to make the user experience even better.
Integrations
SharePoint home site in Teams
Microsoft bought intranet directly to Teams through the new home site app. With this update of the integration of the SharePoint home site in Teams, employees can easily access an intranet without leaving your collaboration space! The app will be available later this year and includes multi-level navigation to teams, communities, and other resources; customizable branding, naming, and even more. To learn more and see how it can be configured, check out this Ignite video: Architecting your intelligent intranet with SharePoint global navigation, hubs, and site designs.
Security and Compliance
Customer Key Support
Customer Key support is coming to Microsoft Teams! Now you'll be able to keep data safe by adding a layer of encryption using your own keys for Teams. This is very similar to the offerings in Exchange Online, SharePoint Online, and OneDrive, and you can expect to see this in public preview before the end of the year!
Microsoft Graph API for Teams Export
Available for public preview now, the Teams Export API allows exporting Teams messages (both personal messages and group chats) along with attachments (file links and stickers), emojis, GIFs, and user mentions. For many companies, the Enterprise Information Archiving (EIA) for Teams is critical. It meets retention, indexing, eDiscovery, classification, and regulatory requirements, and this API will only help make things more easily digestible. Learn more about the new API via the link.
These were just the highlighted updates presented at Ignite 2020 Part 1 we found the most interesting as for the community of Microsoft Teams users. Also, Microsoft has added a second Ignite IT pro event, slated for early 2021, to its conference calendar, so there will be more updates from the company coming soon. Stay tuned!
With NextPlane, You Can Connect Any Team, Any Platform, Anytime.
Our recent survey shows 79% of companies are operating in a mixed collaboration environment, which can include Microsoft Teams, Slack, and Cisco Webex Teams as well as legacy UC platforms such as Microsoft Skype for Business or Cisco Jabber.
As a universal interoperability service, NextPlane supports such platforms as Slack, Microsoft Teams, Cisco Webex Teams, Cisco Jabber, and Microsoft Skype for Business. NextPlane enables users on different collaboration platforms to connect with their colleagues, inside or outside of their enterprise. Users can send messages with rich text, GIF, and emoji reaction, share presence status, participate in channels, share files, and more.
NextPlane seamlessly connects 750,000 enterprise users every day from thousands of Global 5000 companies, enabling real-time communication regardless of different internal or external collaboration platforms.
For more information, please visit NextPlane, or book a free 30-minute call with a NextPlane expert.