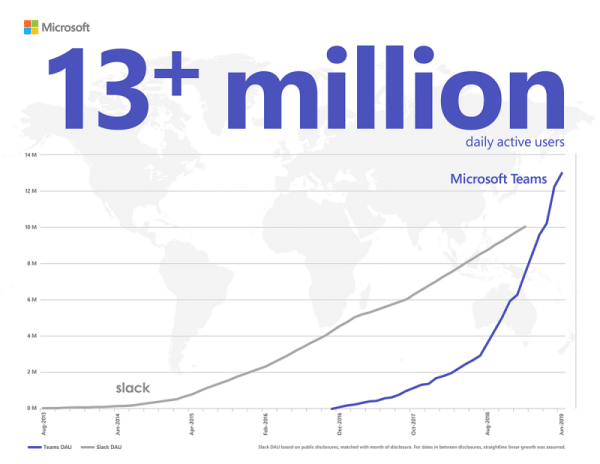 The Numbers Game: Microsoft Teams Announces 13 Million Daily Active Users
The gloves have officially come off in the fight between Slack and Microsoft Teams for the title of "Biggest in Team Collaboration." Ahead of the Microsoft Inspire conference in Las Vegas, the company made the announcement that its 13 million daily user pool has officially surpassed that of its younger and hipper Team Collaboration rival, Slack.

180 Million Reasons MS Teams Could Get Even Bigger

Microsoft's growth strategy will largely depend on its campaign to transition Office 365 users to MS Teams users via an auto-installation plan. The company is leveraging its already dominant presence in large enterprises that rely on tools like Word, Excel, and OneDrive to guide users to Teams, making the move to Teams even easier (and in most cases, much cheaper).

Don't Count Slack Out

While Microsoft is on the path to dominate the Team Collaboration industry, it would be foolish to write off other big competitors like Slack. The recently public company only took 5 years to gain the loyalty of 10 million users, and as some commentators have pointed out, become a verb in the process.

User loyalty is a powerful driving force in this industry, and it's unlikely that one platform will become the exclusive collaboration tool anytime soon.