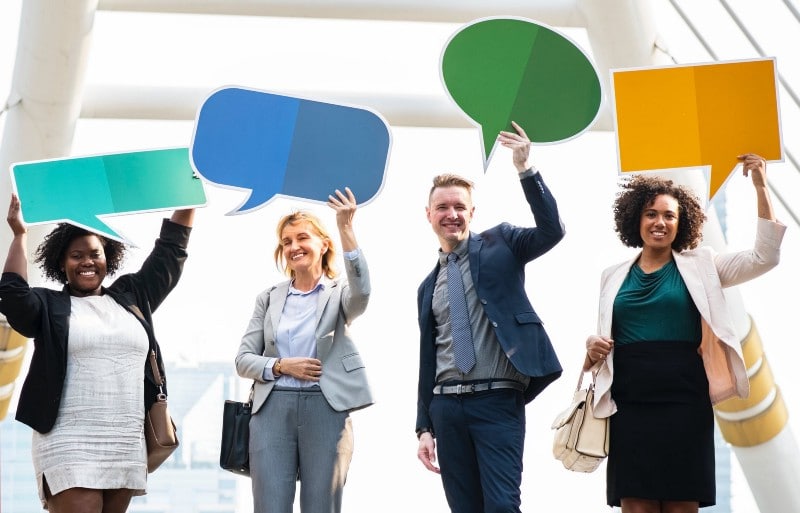 How the Rapid Pace of Technology and Mobility Are Changing the Nature of Workplace Collaboration
Prior to the rise of cloud computing, mobile devices and lightning-fast networks, most folks who spoke about collaboration in the workplace focused on a single avenue: the desktop.
Now, thanks to the rise of mobility, the definition of workplace collaboration is changing.
Today, collaboration is defined differently than just having real-time modes of communication (chat, voice, video, conferencing, etc.) on a single desktop client.
We believe that four trends are responsible for this redefinition of business collaboration
1. Collaboration is no longer synonymous with unified communications
A few years ago, unified communications applications came to dominate the collaboration space, as they allowed workers to communicate in real time through the most sensible medium (e.g., instant message, voice or video) no matter where they happened to be.
Today, line-of-business (LOB) managers are talking about outcome-based collaboration. As David Mario Smith of Aragon Research says, managers are more interested in how collaboration services can help them achieve specific outcomes (e.g., how can a VP of sales meet his quarterly targets?). In this context, end users need to be able to access a confluence of business contacts, applications, files and modes of communication (chat, voice, video, desktop sharing, conferencing, etc.) all from one central interface, regardless of device (desktop, mobile, tablet, etc.).

2. Seamless external collaboration with built-in interoperability.
Today, in order to communicate with external business partners, end users and LOB managers need UC admins to help them establish UC-to-UC federations. But the UC federation process is time-consuming, cumbersome, and fraught with interoperability limitations.

LOB managers want collaboration tools that have built-in connectivity to all other business messaging and collaboration tools. This enables them to empower their end users to collaborate with external business partners on their own, without having to constantly rely on IT for help or be limited by the lack of interoperability.
3. Collaboration is moving to the cloud.
Compared to their on-premises counterparts, cloud-based collaboration services offer several benefits, including minimal acquisition costs (i.e., low capital expenditures), fast implementation and a low total cost of ownership.
Today, more and more LOB managers are forcing IT to adopt cloud-based collaboration services. According to a recent TechTarget survey:
10% of organizations are already using cloud-based UC tools;
14% of organizations use cloud-based UC tools to augment their existing UC environments; and
32% of organizations are taking a "wait-and-see" approach with cloud-based UC
Those taking the "wait-and-see" approach would be wise to adopt cloud-based UC tools sooner or later — and industry analysts expect they will. Zeus Kerravala of ZK Research writes:

It's time for cloud UC because it's the delivery model that best fits today's computing environment. On-premises-based technologies were fine when the majority of workers resided in a corporate location and mobility was limited. Nothing could be further from the truth today. Workers are constantly on the go and need to access UC applications on the road. Mobility has become the norm, and cloud addresses mobile computing much better than traditional deployment methods.
There are several reasons why moving to the cloud is so attractive:
The flexibility and scalability to add or remove users as needed;
The reduced administrative effort required to maintain it; and
The guaranteed service-level agreements (SLAs)
4. Collaboration is moving beyond voice and video.
Ever attended a video conference where you huddled around a laptop with a couple coworkers and stared at some folks on the screen who were scribbling notes on a whiteboard you could barely see?
You aren't alone.
To streamline the video conferencing experience, many vendors have created virtual whiteboards which can be seen by all conference attendees. These interactive mediums can be edited by anyone, and they can also be saved so users can access them at a later time.
As the collaboration space continues to evolve, organizations need to deploy collaboration apps that provide employees with the dexterity necessary to thrive in today's business world.
A collaboration application cannot just be another desktop icon that nobody knows how to use. Instead, collaboration apps need to become immersive environments that provide end users with everything they need to get their jobs done — all from one central, unified location.
But perhaps most importantly, due to the evident fragmentation in the enterprise messaging space, collaboration apps need to be able to interoperate with disparate platforms. That way, employees will be able to collaborate with their coworkers and their external business partners in real time — no matter which platforms they're using.
Learn how NextPlane can help your organization overcome communications gaps and allow your collaboration apps to become truly interoperable, both internally and externally. Follow NextPlane on Twitter for more updates.