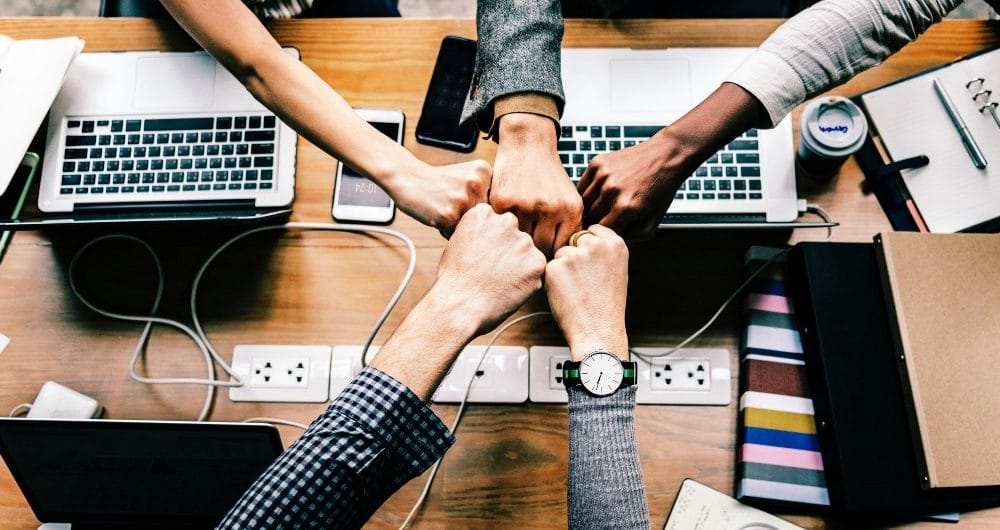 Are You Evaluating a Bunch of Collaboration Tools? There's No Need To Pick Favorites
If you ask 100 different people on the street "what do you do for a living?" you'll probably get 100 different answers. The hallmarks of the modern workforce are flexibility, specificity and at times ambiguity. It seems like people's careers are designed to satisfy more and more niche job roles each year with no signs of returning to simpler times.
That's why when it comes to collaborating on the job, modern workers need tools that can satisfy their careers' unique demands. Team Collaboration tools (TC) like Slack and Microsoft Teams are designed to help teams reach their potential by offering the tools that are specific to their unique work and creating an open platform for the exchange of ideas. The inherent problem for IT departments and managers is that with 100 vendors offering their enterprise tools to the marketplace, it can be impossible to pick just one for your company and be far too costly to subscribe each team to their own preferred platform.
What is your money buying you?
From live video conferencing solutions to file sharing capabilities, and even augmented reality applications, modern TC tools can be a powerful productivity boost for teams.
As one of the industry's standouts, everyone has probably heard of Slack's ability to unite disjointed teams, streamline tasks and meetings, and help employees collaborate quicker and more efficiently. However, in some instances, the tool is also completely changing company structure, allowing for individuals to stand out more. Rather than focusing on the hierarchy and a linear chain of command, Slack opens up communications for all employees to contribute and share ideas. For job roles that are more industry-specific, this is a huge selling point in ensuring employees don't get lost in the crowd. As the team at Morphic Therapeutic explains, Slack allows for conversations with people you may have never met before and leads to free-flowing ideas, building more of a meritocracy rather than a hierarchy.
Similarly, Microsoft Teams is driving the future of work with "a single pane of glass" approach. Rather than adding extra time to people's day with multiple windows open, Teams allows for a variety of Microsoft applications to integrate within their platform so the focus remains on productivity and team collaboration. It streamlines processes and allows everyone to work on a project together, divide up assignments and not get lost in a tidal wave of different tabs and programs. For companies with niche job roles, this can outline tasks more clearly and allow for everyone's voice to be heard.
Why pick just one?
Slack and Microsoft Teams are just two of the tools available in a sea of platforms that are broadening collaboration capabilities and fueling company growth. And while it can be good to have so many options, sometimes favoritism to a particular brand can create more division than collaboration.
As our recent research report demonstrates, teams are becoming not only dependent on the tools they use at work but also loyal to the specific products that fit their needs. Sixty-three percent of professionals surveyed expressed loyalty to the technology products like WSCs they use for their job, while more than one-third (38 percent) of respondents said they would be resistant to IT or management dictating which software or tools they use to do their jobs.
With all of the solutions they offer to workers and teams, the plethora of TC tools can create a headache for IT departments who are stuck trying to satisfy everyone while keeping costs low. With talented workers in many industries fetching a premium, IT departments can't afford to risk a talented employee feeling disgruntled when his or her manager says their favorite collaboration software just isn't in the budget.
With NextPlane's new built-in federation functionality, IT managers can take control of the collaboration tools making their way into the office while granting their employees the freedom they need to do their jobs NextPlane's ConverseCloud can seamlessly and discreetly translate messages from different Team Collaboration and Unified Communication (UC) to another and let users exchange messages & emojis, participate in channels and group chat sessions, and share files, pictures, & video the way they best see fit.
Follow NextPlane on Twitter and LinkedIn for more updates or visit NextPlane to learn more about ConverseCloud's federation capabilities.