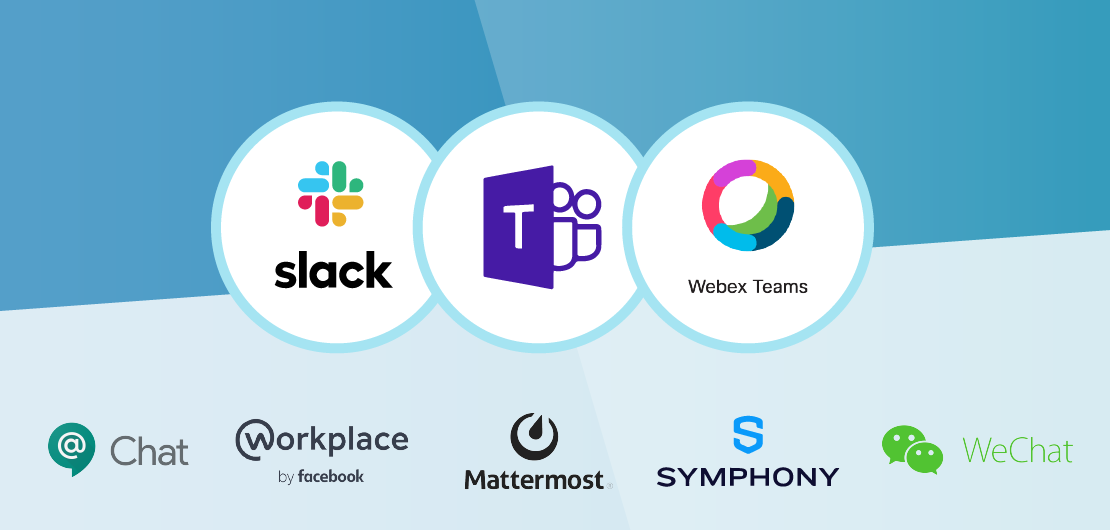 Alternatives to Slack, Microsoft Teams, and Cisco WebEx Teams Ranked
---
Keep your workforce productive by offering intuitive online collaboration tools to make managing and executing day-to-day tasks a breeze. There's no denying Microsoft Teams, Cisco WebEx, and Slack dominate this space. Their systems and apps are used widely by millions of working professionals around the globe.
Slack has forced Microsoft and Cisco to respond, but it does highlight how Cisco and Microsoft companies have positioned their communications clients. Microsoft Teams has been tightly integrated into Office, bundled with Office 365 subscriptions, and really aimed at businesses that rely on Microsoft. Slack has taken the approach of trying to be the platform that connects a variety of productivity apps and services for businesses.
Cisco has tightly integrated Webex Teams with its voice and video conferencing solutions. However, it lacks some of the advanced functionality of Slack and Microsoft Teams.
Slack has now caught on in the enterprise side of the business that Microsoft and Cisco have traditionally dominated, but it still has a lot of work to do to convince large enterprise customers to go all-in on Slack over Microsoft or Cisco.
While Slack started off in a battle to kill intracompany email, the greater war is eliminating emails between businesses. Slack now wants to be the communications tool of the future to achieve that, and it's a war that has just begun.
However, on the heel of Slack, Cisco and Microsoft there are other powerful collaboration solutions that are worthy of consideration.
If you're thinking to yourself—"why to consider pursuing alternatives when these apps already check most of the boxes?" Well, aside from the ease of use and functionality, each of these tools has various features, functionalities, and costs that may not align directly with your business needs.
In this article, we're taking a look at the top five alternatives to Slack, Microsoft Teams, and Cisco Webex Teams designed to streamline workflows and boost efficiency in any business environment.
Table of Content:
Google Chat

Is it any surprise that Google offers a team chat app? Formerly known as Google Hangouts, Google Chat is one of the top alternatives to Microsoft Teams on this list.
With Google Chat, you can create rooms (similar to channels) organized around certain topics. Within each room, members can build discussion threads and send private or direct messages to individuals or groups. There are even bots you can add to make activities like scheduling meetings a little easier.
Plus, Google Chat integrates seamlessly with other G Suite apps, simplifying the process of searching through your Google Chat conversations.
Key Features:
While Google Chat doesn't allow you to include external users in your group messages, you can add external users to group chats and specific rooms.
Up to 150 chat participants can contribute in a group conversation with a maximum of 8,000 users allowed in a room.
Using threads, you can hold separate conversations with the same people. Threads can be muted or unfollowed.
Supports up to 28 languages, including English, Spanish, French, and Arabic.
Pricing:
While there's no free version of Google Chat available, it starts at $6 per month per user as part of the G Suite plan.
Workplace by Facebook

Debuted in 2016, Workplace by Facebook has gained plenty of traction over the years, even scoring deals with retail giants such as Starbucks and Walmart. It's essentially a private social network with a user interface that's indistinguishable from Facebook, which means there's virtually no learning curve for Facebook users.
However, it's a more business-focused version of the platform where employees can connect with their colleagues using its distinctive instant messaging feature.One of the top alternatives to WebEx Teams, members can even set up video chats to discuss ideas with others in their group.
Key Features:
Make voice and video calls on desktop and on mobile.
Enjoy unlimited file, photo, and video storage options.
Live HD video streaming is available with the touch of a button.
Your newsfeed will display all activities on your wall, including posts by team members and company events.
Admins can build Workplace groups, ensuring all team activities are in one place.
Workplace Chat enables team members to send direct messages to colleagues and other teams.
Speak to anyone in any language using the auto-translate feature.
Pricing:
Workplace by Facebook has a tiered pricing structure. You can create a Workplace Advanced for a flat rate of $4 per user per month for companies with more than 1,000 active users, an Enterprise account for $8 per user per month, and a Standard account for free.
Mattermost

One of the leading open-source alternatives to Slack, Mattermost is self-hosted and built for customization. Put simply, the software allows businesses to build an app most suitable for them, attracting the attention of organizations like Uber, Airbus, and the United States Department of Defense.
Ian Tien, co-founder and CEO of Mattermost, recently stated that "We think that enterprises that have software innovation as critical to their strategy. They are going to move to more and more open source."
Not to mention—the ability for enterprises to install Mattermost's software on their private servers means that customers can maintain full control over their data.
Key Features:
Secure and scalable messaging can bring files together into a single view.
Users can take advantage of the system's video calling, screen sharing, and custom branding opportunities.
Mattermost places a special emphasis on its integrations with over 600 third-party vendors.
The app can be translated into 16 languages, including English, Dutch, French, and Italian.
Pricing:
Ideal for small teams, the Team Edition plan is free. Enterprise E10 plan costs $20 per user per year, while Enterprise E20 is biller per user annually at custom pricing.
Symphony

Symphony has been making waves in the financial market since its launch in 2015. The technology was originally designed as an internal chat app called Live Current.
After partnering with DowJones, McGraw Hill Financial, and Selerity, Symphony has become the collaboration tool of choice for more than 400 companies and 500,000 users worldwide.
Key Features:
The app combines chat, voice, and video conferencing into one cohesive platform.
Content can be viewed as threaded discussions, preserving the conversation's original context.
Each message is indexed for quick retrieval, enabling users to search for content based on user, date range, keywords, or specific topics.
Automation tools and bot integrations allow customers to determine the workflows that are best for automation.
Pricing:
Symphony bills companies $240 per user annually.
WeChat

Developed by Tencent in 2011, WeChat is part social network, part mobile payment software, and part multi-purpose messaging app. One of the few chat platforms permitted in China, this all-around office collaboration tool has been adopted by large corporations like Rainbow, Procter & Gamble, Cartier, Walmart, L'Oreal, IKEA, Bank of China, PICC, Deppon Express, and Changan Automobile.
WeChat has a monthly active user base of one billion globally, with their Chinese customers spending more than one-third of their time on the app.
According to Willy Shih, a professor of management practice at Harvard Business School, "What WeChat has done is embed a constant stream of new services and features onto their platform. The new features take advantage of the strong network effect that WeChat already has, as the de facto messaging platform in China."
Key Features:
Messaging functions span text and voice messaging, conference calls, and video calls.
Users can synchronize their posts through "Moments" with mainstream platforms like Facebook and Twitter that are still banned in China.
The WeChat Search Engine feature can be used to explore "Moments" and search for contacts and articles.
The WeChat E-wallet connects to your bank account so that customers can make payments directly from their mobile devices.
Pricing:
Subscription accounts target individuals, brands, and publications that are content or information-based.
For businesses with a larger reach, like airlines or hotels, service accounts offer more robust functionality.
While subscription accounts and service accounts are geared towards external markets, WeChat's enterprise accounts are intended for internal messaging, similar to how businesses use Slack.
Bonus Alternatives
When it comes to uncovering the alternatives to Microsoft Teams, WebEx Teams, and Slack, we've barely scratched the surface.
Here are a few additional collaboration solutions to keep top of mind when selecting the right one for your business:
With NextPlane, You Can Connect Any Team, Any Platform, Anytime.
As IT struggles to manage an increasingly fragmented collaboration environment, and deal with WFH challenges, NextPlane powers always-connected collaboration and communication for any enterprise, its users, and its external partners and customers.
Our recent survey shows 79% of companies are operating in a mixed collaboration environment, which can include Microsoft Teams, Slack, and Cisco Webex Teams as well as legacy UC platforms such as Microsoft Skype for Business or Cisco Jabber.
NextPlane enables users on different collaboration platforms to connect with their colleagues, inside or outside their enterprise. Users can chat & DM each other with rich text, GIF, and emoji reactions, share presence status, participate in channels, and share files without leaving their preferred platforms.
By using NextPlane, companies with mixed environments, such as IBM, Novo Nordisk, Ericsson, Emerson, and others, have increased their internal or external collaboration by 50%.For more information, please visit NextPlane, or book a free 30-minute call with a NextPlane expert.