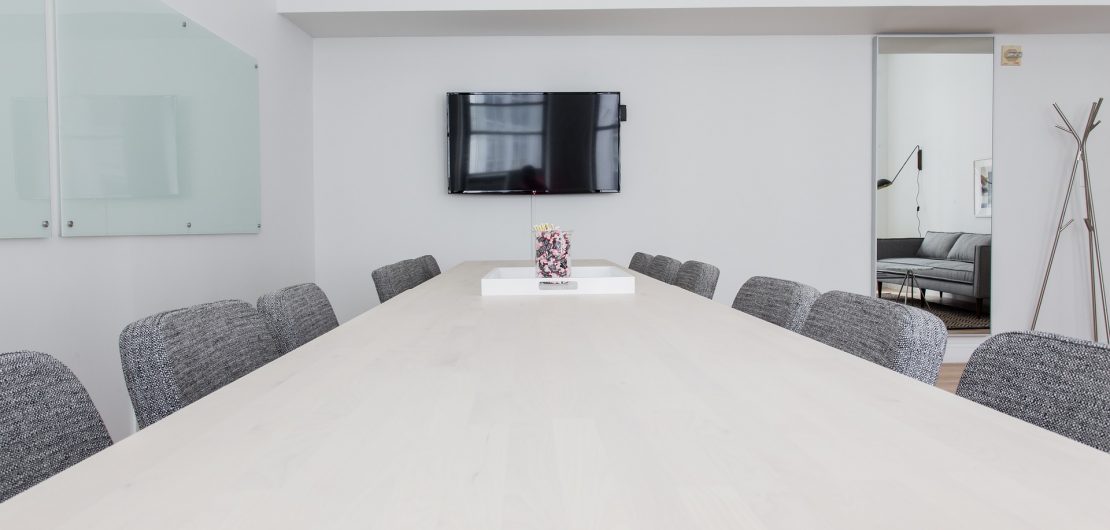 5 Trends Shaping Conference Room Design Of The Future
Businesses have approached the digital era and are operating via online collaboration of teams. The fact, however, is that face-to- face meetings are still invaluable. Most managers spend not less than 35% of working hours at meetings. Surveys have shown that many managers have reservations about these meetings. It is quite conclusive that there needs to be an upgrade to the nature of these meetings.
Since most meetings are held in conference rooms, it definitely deserves your attention. Conference room designs reflect the framework of the work done within. Designing your conference room sets the tone for your brands.
There are no set principles as to how to design your conference room. Here are design trends shaping the industry and rebranding office meetings:
1. Paints and Colours
Colours influence the nature and tone of many settings. They can boost moods; organize thoughts, foster creativity and productivity. Colours affect our psychology and here is how:
Yellow is just like the sunshine. It reflects the joy and is good for high intellect and energy.
White symbolizes cleanliness, goodness, purity faith and light.
Nothing reflects nature like the colour green. Green also symbolizes fertility, growth, freshness and harmony.
Red brings energy, passion, desire, love, determination and strength. On the other hand, it could mean war and danger.
Orange; orange is a perfect mix of the happy yellow and red energy. It reflects sunshine and joy.
Blue symbolizes faith, trust, wisdom, intelligence, confidence and depth.
Purple reflects royalty, nobility, luxury and ambition.
More offices have begun to integrate pops of colours to brighten their workspace. Nothing works magic on the atmosphere like the colours you choose. Stick to a colour scheme that promotes your company signature and goals. A professional designer can help you fit in the right colour mixture.
2. Technology
Formal and informal meetings and sessions require certain technology for effectiveness. Your design must give room for the installation of trendy equipment. All equipment must be of up-to-date and easy to handle. Poor quality equipment is prone to failure and such embarrassment is best avoided.
Noise reduction; there are unique and cost-effective designs for eliminating noise and distractions. You can use noise absorbent flooring like carpets, rugs and vinyl. Plants contribute to oxygen levels and absorb some levels of noise.
Video or audio conferencing; video conferencing is very common especially for hosting meetings with remote teams. You will need equipment for video or audio calls from external partners and clients during these meetings.
Sound; acoustic controls are effective in maintaining desired sounds. Microphones and speakers can be on-table, in-ceiling or mounted below the display. Unwanted effects like echoes, reverberation and feedback noise are likely to occur without sound considerations.
Interaction; participants can collaborate using whiteboard surfaces. Modern AV presentation systems are available and very effective.
Connectivity; people often choose wireless connectivity to eliminate the clutter of cords. Table inserts can hide wired connectivity and stabilize presentations.
3. Nature effect  
You cannot go wrong if you can afford to give your conference room a touch of nature. Elements of nature are great for meetings and collaboration sessions. Outdoor conference rooms may not be ideal throughout the year. You can bring in nature to the board room to give your staff a feel of the outdoor.
Plants have a proven natural and positive effect on conference room designs. They add beauty; absorb sound, decrease eye strain and feelings of anxiety.
Lighting options must adjust to time, and weather variations. Natural light must be optimized with windows and blinds. Lighting can be supplemented with LED bulbs to replicate natural light.
External traffic and unwanted noise are unwelcome distractions to team meetings. Select your location and design with an aim to eliminate such distractions.
Airy spaces: natural ventilation may not always be possible but you can make your space airy enough. Your staff should be able to breathe comfortably and feel cool while brainstorming.
4. Flexible Space 
It can get very boring when your conference room has a fixed design and outlook. Flexibility is particularly ideal for young companies figuring out how they work best. Many offices are currently opting for flexible and customized designs. Here is how to achieve this;
It must be centrally located so it can be easily reached by all your employees. This makes the place ideal for you to explore since your location is not likely to change.
Adjustable table and chair configurations can afford you flexibility for different layouts and designs. Large conference rooms are particularly ideal for meetings with the client. For small one-on-one meetings and brainstorming sessions, it becomes too much space. However you decide to place furniture, attendees must be comfortable.
Removable wall dividers are quick solutions for space expansion and reduction especially for different sizes of meetings.
Removable design elements like plants, wallpapers and artworks can afford you some level of flexibility. A feel of home, out of office designs is often ideal for certain clients. Sometimes the setting has to be completely formal.
5. Furniture 
Every effect you create must have the number of users in mind. Select your furniture for comfort and functionality. Tables are one of the most important furniture in many conference rooms. The shape and size of your table will determine the nature of your sitting arrangement, here is how:
U-shaped tables promote face to face interactions and engagement in meeting sessions.
Work desks and chairs like a classroom arrangement may fit in more people for long lectures.
A banquet style is appropriate for meals and small group discussions of about eight persons.
The auditorium style is appropriate for short meetings that will not require taking notes.
Furniture Style and arrangement are vital for a free flow of traffic and participation during meetings. Your choice of furniture must match your design for consistency and branding. Thus the colours, fabrics, wood, metal and glass must be chosen cautiously. Surface furnishings are important aesthetic elements in every design trend. Glossy finishing on glass walls, matte tables and chairs for vibrancy and energy of meeting spaces.
Final Thought
The design atmosphere often translates to productivity, efficiency and success. When building a new office, investing in your conference room is vital. Modern conference rooms are equipped with tools that foster effective collaborations and success. The only way forward is to make your conference room as up-to-date as possible.

Published 10/14/19